If you're a fan of collectible figurines, or just love cute and quirky things, you may have heard of both Sonny Angel and Kewpie dolls. But have you ever wondered if Sonny Angel is just a type of Kewpie doll? Are they the same thing? Let's take a closer look and find out.
Table of Contents
What is a Kewpie Doll?
These charming figures were created by American cartoonist and illustrator Rose O'Neill in 1909. The young and talented O'Neill created Kewpies as a special symbol of joy, innocence, and love. "Kewpie" is actually short for "Cupid", the Roman God of Love.
Rose O'Neill's portrait. Image credit: Wikipedia

Kewpies are known for their cute, chubby appearance and angelic cupid-like design. The dolls are characterized by their round face with rosy cheeks, wide eyes, and a twist of curled hair on the top of their heads. Their arms are often stretched wide open, as though the doll is ready for a big hug. They often appear dressed in a sailor suit or diapers and may also come with wings.
Over the years, they have been produced in a variety of sizes, materials, and poses.
Cases of Kewpie dolls displayed at the Springfield's Rose O'Neill Museum. Image credit:  Ozarks Alive
A Brief History of the Kewpie Doll
Kewpie dolls have a long history as collectible figurines, dating back over a century.
It all started in the early 1900s when the New York-based author and artist Rose O'Neill created the Kewpie character in her comic strip. The adventures of Kewpie and their friends were written and illustrated by O'Neill in magazines and newspapers and were well-received by readers. The Kewpie character first appeared in the December 1909 issue of the Ladies Home Journal.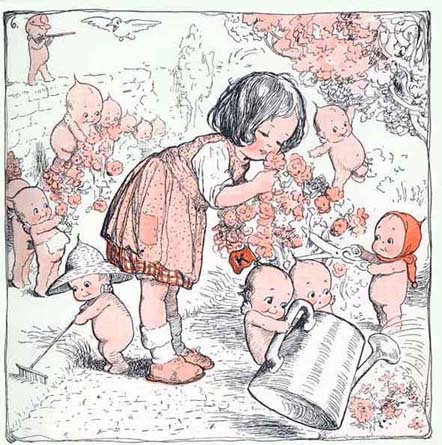 Kewpies help in the garden [The Kewpies, Their book, Rose Cecil O'Neill, 1913, p. 5]. Image credit:  Historic Missourians

Due to the popularity of the Kewpie Doll comic strips, Rose O'Neill began selling paper dolls in the image of the character, called "Kewpie Kutouts". They were so well received that O'Neill commissioned a German doll maker to create a bisque porcelain Kewpie doll. The first Kewpie doll was released by the Kestner doll company in 1913 and was an immediate success.
Kewpie Kutouts. Image credit: PBA Galleries
Over the next few years, Kewpie dolls became extremely popular and were sold internationally. The dolls and their images were also featured in advertising and other memorabilia.
The Kewpie character has evolved over the years, with various models, including cast iron, resin statues, pinbacks, stuffed toys, and figurines, being produced. While Kewpie dolls may not be as abundant and popular as they once were, there is still a strong market for them with collectors seeking out both replicas and vintage models.
Sonny Angel Dolls
Sonny Angel figurines are a relatively new addition to the world of collectibles. Produced by Japanese company Dreams, they were first introduced in 2005 and have quickly become popular all over the world.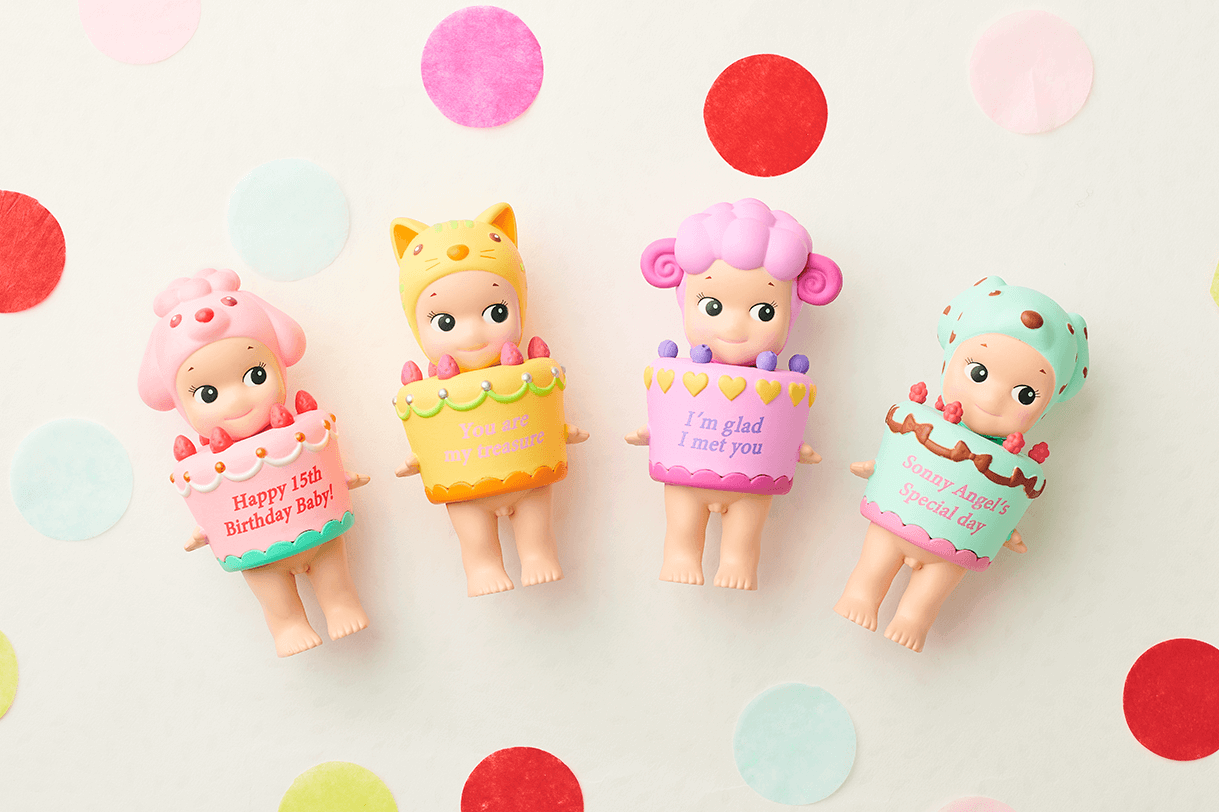 Image credit: Sonny Angel official website

The creator of Sonny Angels, Toru Soeya, was inspired by the beloved Kewpie dolls, to create a 2-year-old angelic boy figure. These adorable figurines have a range of themes and designs, each dressed up in a different outfit.
Want to learn more about Sonny Angels? Check out my blog post filled with 23 fascinating facts about these cuties.
Sonny Angel Vs. Kewpie
Both of these charming little angel dolls have a lot in common, though there are a few differences.
Both Sonny Angel and Kewpie aim to spread joy, happiness, and love to their owners. They have similar features such as small angel wings, cute chubby bodies, big eyes, and charming smiles. They also share the same hairstyle, just take a look at the few bare-headed Sonny Angels out there. The difference is that Sonny Angel doesn't have dimples and comes with a tiny, almost non existing nose.

Kewpie dolls come in different sizes ranging from 1 to 22 inches, while Sonny Angel is typically 3 inches in size, with the special edition series being larger.
While both dolls are usually naked, Kewpie dolls are genderless, while Sonny Angel is definitely a cute little boy. Kewpie dolls usually have a heart on their chests while Sonny Angel loves to wear unique headgear.
A 7" bisque Kewpie doll. Image credit: DOLLS4EMMA by Etsy
Sonny Angel is made of high-quality vinyl while Kewpie dolls have been made from a variety of materials including bisque, composition, hard plastic, vinyl, cloth, and paper since 1912.
And finally, every Sonny Angel is part of a series with its own distinctive theme and is often packaged in blind boxes. On the other hand, Kewpie dolls were never sold in this way.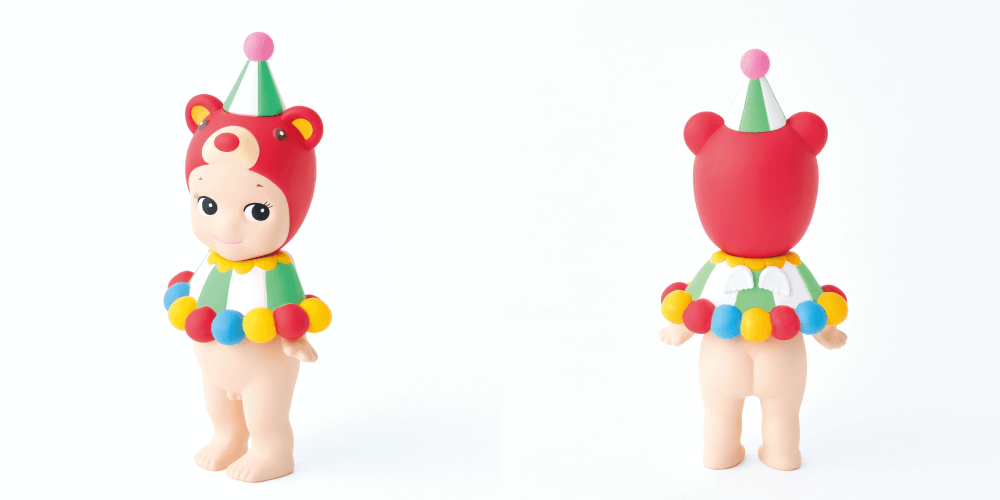 Sonny Angel bear from the Circus series. Image credit: Sonny Angels official website 
Is Sonny Angel a type of Kewpie doll?
So, is Sonny Angel just a Kewpie doll with a new coat of paint? The short answer is no.
Although both have cute and charming appearances, they have different origins, designs, and concepts. Kewpie dolls have a long history and a distinct look, while Sonny Angel figurines are a newer creation with their own unique style.
In summary
Sonny Angel figurines are not a type of Kewpie doll. They have their own unique background, style, and theme, but both are fantastic choices for collectors. Why not add both to your collection and enjoy their charming appeal?
If you're looking for a fun and secure way to showcase your Sonny Angel figurines, take a look at our beautiful display shelves! They offer plenty of room to put your beloved collection on display.
Happy collecting!