If you're into collecting or just love cute stuff, you might have come across Sonny Angels before. They're cute, collectible figurines, that have a ton of different designs to choose from, and new ones are released all the time, so there's always something new to look out for.
Since there's no official Sonny Angel wiki out there, I rolled up my sleeves and created this ultimate guide just for you. It's packed with everything you need to know about Sonny Angels. I hope you'll find it super helpful and learn a thing or two you didn't know before!
1. What are Sonny Angels?
Sonny Angels are beloved collectible figurines created by the talented Japanese toy designer Toru Soeya. These charming little angelic plastic dolls feature a unique design, with each doll showcasing delightful angel wings and colorful headgear. Sonny Angel dolls are especially popular among working women in their mid-20s who want to add a touch of whimsy and relieve some stress. With their endearing appearance and wide variety of designs, Sonny Angels have captured the hearts of collectors worldwide. 
Sonny Angels are about 3 inches tall and come in blind boxes, which means you don't know which one you're getting until you open it. Each figurine has a unique, cute, and sometimes playful design. They're seriously adorable and make for a fun collectible.
Image credit: Sonny Angels USA
If you're curious to know if Sonny Angels and Kewpie dolls are one and the same, our blog post delves into this topic in detail. Give it a read!
2. What is the theme of Sonny Angels?
All Sonny Angels are themed around angels. Each Sonny Angel is a cute and angelic little boy, with a (usually naked) baby body. Sonny Angels usually have tiny wings, a bumpy little butt, pink cheeks, and unique headpieces, and are dressed in various costumes or outfits.
So you might ask yourself, why are Sonny Angels naked? 
Well, it's just a design choice! Sonny Angels are meant to be playful and whimsical, and part of that is their little naked bodies. I guess the creators thought it would be more adorable that way. Or it might be because they wanted to give the figures a sense of innocence and childlike wonder. Plus, let's be real, a naked angel is pretty hard to forget! It's all just for fun and to make them more unique and memorable, and there's no deeper meaning behind it. So don't worry about it too much and just enjoy the cuteness!
3. Which company makes Sonny Angels?
Sonny Angels are produced by a Japanese company called Dreams. They're based in Japan and have been making these cute little figurines for a while now. In addition to Sonny Angels, the company also produces a variety of other collectible figurines and gift items for both children and adults.
Read our blog post to find out more about Dreams CEO, Toru Soeya, who created Sonny Angels.
4. When did Sonny Angels come out?
The first Sonny Angel was introduced in March 2005. In the beginning, Sonny Angel was not a mini figure. He was born as an 18 cm (7"), wide-eyed doll. Soon after, a mini figure series was released, the "Animal Series 1" wearing animal headgear. Sonny Angel's official birthday is May 15th, 2004.
5. How many Sonny Angels are there?
If you wonder how many Sonny Angels exist, then as of 2023, there are over 1000 different Sonny Angels to collect. This number keeps on growing because they keep releasing new designs all the time. But here's the deal, some of these designs are super rare and limited edition. So if you see one you really want, you'll want to snag it before it's gone.
6. Are Sonny Angels just for kids?
While kids definitely love Sonny Angels, adults can get in on the fun too. The cute designs and element of surprise when opening a blind box make them enjoyable for collectors of all ages.
Credit image: bubupoodle on Instagram
7. Where can you buy Sonny Angels?
You can find Sonny Angels in Japan and at specialty stores and online retailers around the world including Amazon. Currently, Sonny Angel is sold in 33 countries. A store locator can be found on the free Sonny Angel App. If you're looking to add to your collection, it's worth checking out a variety of different sources to see what's available and get the best price.
8. How much do Sonny Angels cost?
The price of Sonny Angels can vary depending on where you buy them and which design you're getting. On average, you can expect to pay around $10-$15 per blind box, although some limited edition or rare designs may be more expensive. Sets of boxes or complete collections can also be purchased at a discounted price.
9. How do you collect Sonny Angels?
You can buy individual blind boxes or sets of boxes that includes the entire series, to try and collect all the different designs. Some collectors even trade Sonny Angels with each other to try and complete their collection. It's kind of like a fun little treasure hunt.
Want to make your Sonny Angel collecting way easier? Well, you should definitely use an ISO list. It helps you keep track of which Sonny Angels you still need to add to your collection. Not sure what an ISO list is? No worries! Just read this article to find out what an ISO list is, and how to effortlessly create one.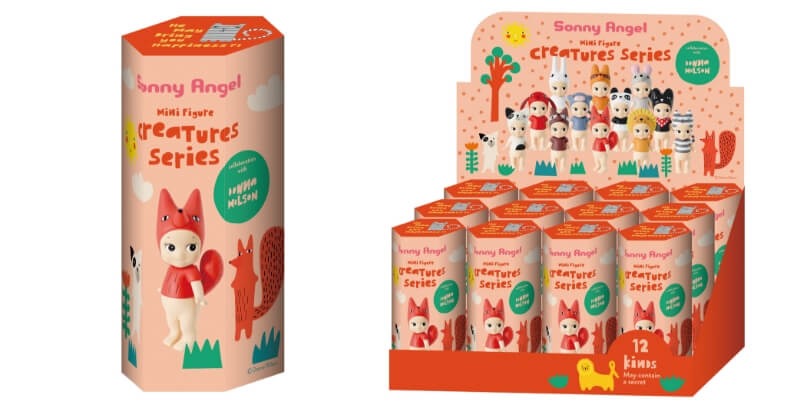 Image credit: Sonny Angels USA official website
10. How do you care for your Sonny Angels collection?
Sonny Angels are made of plastic, so they're pretty durable, but you'll still want to handle them with care. Avoid getting them wet or exposing them to extreme temperatures, and store them in a dry, dust-free place. If you want to display your Sonny Angels, consider using one of Lovely Little House's display shelves to keep them safe.
11. Are there different series of Sonny Angels?
Yes, there are several different series of Sonny Angels, each with its own unique theme. Some popular series include the "Fruit" series, which features Sonny Angels dressed as various types of fruit, and the "Animal" series, which features Sonny Angels dressed as different animals.
12. What types of Sonny Angels series are available?
There are several types of Sonny Angels series available, including:
Regular Series: This is the main series of Sonny Angels, and it includes different subseries such as different animals, fruits, vegetables, flowers, marine, sweets, and more! Each set includes 12 different figurines. The figurines in these series are released periodically.
Special Edition Series: These are special, limited edition releases of Sonny Angels that feature unique designs and themes. These series are often themed around holidays, seasons, or pop culture franchises, and are only available for a short period of time. Each set includes between 6 to 12 different figurines.
Artist collection: The Artist Sonny Angel series is a special edition series of Sonny Angels figurines that features unique designs created by artists from around the world. These designs are inspired by the style and flair of the individual artists, and each figurine in the series has its own unique look and feel. These figurines are popular among collectors due to their unique and one-of-a-kind designs, and they are often sought after for their artistic value.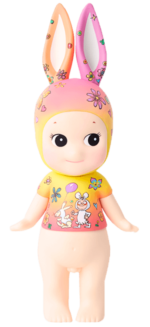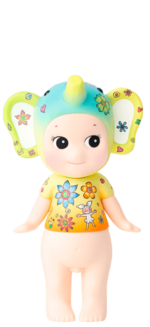 Image credit: Sonny Angels Official website
13. Are there any secret Sonny Angel figures?
In addition to the 12 Sonny Angels in each series, there's also a Secret Angel and a Robby Angel, which are not listed on the packaging or box.
Each series has its own "secret" or "mystery" figurines, but not every box of 12 is guaranteed to have a secret in it, so even if you buy an entire box, you might not get one. There's only one secret figure in every 12 boxes, giving a 1/144 chance of getting one, making them very rare and highly sought after by collectors. They also replace one of the 12 Sonny Angels in the box instead of coming as an extra one. 
To find out if a particular Sonny Angels series includes secret figures, you can check the official Sonny Angels website or ask other collectors. It's worth noting that the availability and inclusion of secret figures can vary between different series and releases, so it's always a good idea to do your research and keep an eye out for any special or rare figures that might be available.
14. Who is Robby Angel?
If you open a blind box and see 2 packages in it: Congratulations! You have found a rare bonus: Robby Angel, Sonny Angel's good friend. Robby Angel looks a bit like a rabbit and likes to dress up similarly to his fellow Sonny Angel companion. Each series has a different colored Robby. He is also a secret figure, so you have a 1/144 chance of getting one, so very rare to collect. Many collectors and fans try their best to find this little friend.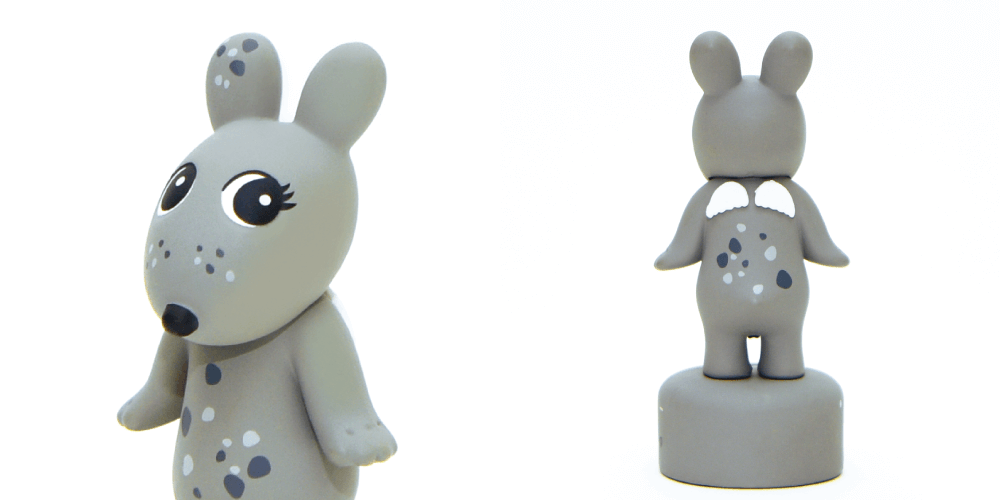 Image credit: Sonny Angels USA official website
15. What do the different colors on the box mean?
Sonny Angels packaging comes in different colors, with each color representing a different series or theme. For example, the "Fruit" series boxes are usually green, while the "Vegetables" series boxes are usually purple. The color of the box can give you an idea of what type of Sonny Angel design is inside.
16. What are some popular Sonny Angels designs?
Some popular Sonny Angels designs include the "Santa" design, which features the angel dressed in a Santa costume, and the "Easter" design, which features the angel dressed in an Easter Bunny costume.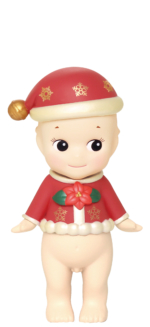 17. Are there any rare Sonny Angels?
Yes, there are some Sonny Angels that are considered rare and can be harder to find. These may be limited edition designs that are no longer in production, or they may be designs that were released in smaller quantities.
18. Are there any valuable Sonny Angels?
Yes, there are several rare Sonny Angels designs that are highly sought after by collectors, so they might be willing to pay more for them. These include the "Rainbow" design, which features a rainbow-colored angel, and the "Christmas Tree" design, which features an angel dressed as a Christmas tree. Other rare designs include the "Halloween" and "Valentine's Day" angels. It's worth doing some research and checking out online marketplaces to see what the current prices are for the designs you're interested in.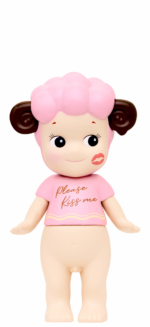 19. Can I customize my Sonny Angels?
While you can't physically customize the figurines themselves, there are plenty of accessories and playsets available that allow you to create different scenarios and settings for your Sonny Angels. Check out Etsy for some really great ideas!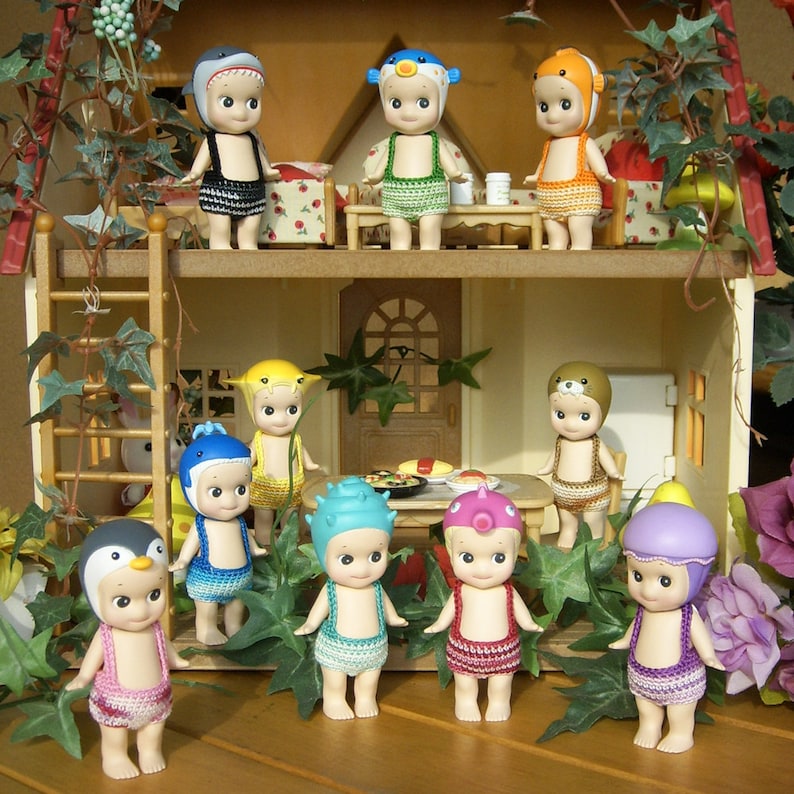 20. How do I know which design I'm getting in a blind box?
Unfortunately, you won't know until you open the box. Sonny Angels are sold in sealed packs, so you never know which one you'll get, adding to the fun! The box shows the entire range of the series so that you know when you've collected the full set. The Sonny Angel pictured on the box is not an indication of which is inside, it's completely random!
21. How do I know which Sonny Angels I have?
So you've got some Sonny Angels and you're trying to figure out which ones you have, huh? Here are a few ways you can try to identify your figurines:
If you still have the box or packaging that your figurines came in, it should have the name of the design listed on it.
You can also use the official Sonny Angels website or app to look up the designs and match them to your figurines.
If you don't have the packaging or can't find the design using the official website or app, you can try searching for images of the different Sonny Angels designs online and comparing them to your figurines. Or you can simply ask other collectors.
22. Are there any Sonny Angels design collaborations?
Yes! Dreams has released various collaboration designs over the years, featuring themes like the Creatures series – a collaboration with London-based textile artist and designer Donna Wilson, and the "Brave as me" and "Best of you" designs which are part of the Artist collection – a collaboration with Taiwan's top entertainer Kangyong Cai.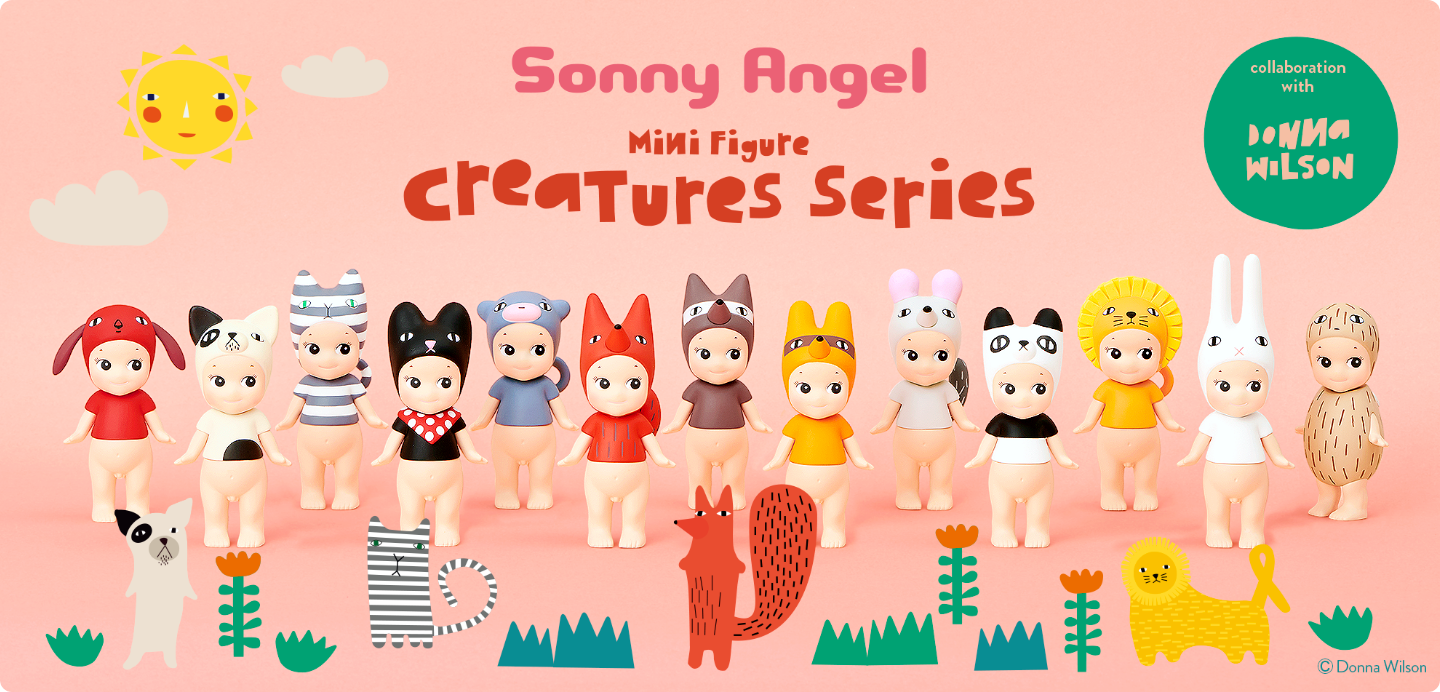 23. Why are Sonny Angels so popular?
There's just something about these little figurines that people can't get enough of. Maybe it's their cute designs or the element of surprise when opening a blind box. Or maybe it's the fun of collecting and trying to complete a set. Whatever the reason, Sonny Angels have become a beloved collectible for many people.
In short
Sonny Angels are a super cute and fun collectible that are enjoyed by people of all ages. With over 1000 different designs to choose from, there's something for everyone in the Sonny Angels collection. Whether you're just starting out or adding to an existing collection, Sonny Angels are a great choice for anyone who loves cute and unique figurines.
If you have a friend or loved one who loves Sonny Angels, consider getting them one of our stylish display shelves as a gift! These shelves provide ample space for displaying their Sonny Angels collection.
Happy collecting!
Image credit: Lovely Little House