Sonny Angels are cute, lovable collectible figurines that were introduced to the world by a Japanese company called Dreams. With their unique designs and adorable features, these little dolls have become a favorite among collectors of all ages. But once you've started collecting these cuties, it can be tricky to figure out how to show them off. In this blog post, we'll explore some creative ways to display your Sonny Angels collection.
If you're curious to know more about Sonny Angels, be sure to check out our blog post where we've gathered 23 fun and interesting facts about them. And if you're interested in the person behind these cute little figures, you can also read about their creator, Toru Soeya. Both of these posts are a great read and you'll learn something new for sure!
Table of Contents
Display Case
A display case, also called a display cabinet, shadow box, or vitrine, is the classic option for showcasing your Sonny Angels. A display case is like a deep picture frame with a clear front that's deep enough to hold your favorite things. You can find display cases with glass or acrylic fronts, and some even have compartments for each figurine. They are great for protecting your minis from dust, damage, and grubby fingers.
You can put it on a table, or hang the case on your wall which is perfect if you have limited space.
If you have one close to you, Daiso has some small acrylic display cases, and of course Etsy sells them too.
Display box
A display box is another great option to show off your Sonny Angels collection. They're like display cases, but with a deeper frame so you can display different-sized dolls. Plus, some boxes can be stacked to save space, and others even have LED lights to make your collection look extra fancy.
Storing your Sonny Angels in a display box has some downsides you should know about. For one thing, if you've got a lot of dolls, t
he box might not have enough room to store them all.
Plus, accessing your dolls can be a bit of a hassle if you need to take them out to play or rearrange them. Lastly, display boxes can be pretty pricey, especially if you have a big collection.
Display Stand
If you have a smaller collection or just a few minis that you want to showcase, a display stand is a simple and cheap option. They are great for highlighting individual figurines or small groups. Some collectors like to use them to create height and depth in their displays.
A display stand, also called a display riser, is also very versatile. You can choose a clear acrylic stand to make your figurines appear to float in mid-air, or a colorful stand to add some personality to your display. You can even mix and match different stands to add some variety to your display. Plus, you can easily move the stand around to change up your display whenever you feel like it.
Image credit: Reddit user kyoraine
Nail polish rack
A nail polish rack may seem like an odd choice, but trust me, it works! It's a great affordable option for displaying your Sonny Angels. Those little shelves are actually the perfect size for displaying those cute little figures. They are pretty compact, so you won't need a ton of space to set it up. And since these racks are designed to hold nail polish bottles, they're usually transparent, so you can see your Sonny Angels from all angles.
And the best part? You can easily mount them on your wall to create an eye-catching display!
Image credit:  Reddit user typemoody
Wooden display shelf
If you want to display your Sonny Angels collection in a charming and rustic way, a wooden display shelf is a great option! The warm and natural look of the wood will complement your cute angels perfectly. Plus, a wooden shelf will give your collection a cozy and homely feel, adding a touch of personality to your decor. They're also durable and easy to clean, so you can enjoy your little angels for years to come!
And, let's be honest, nothing beats the look of a well-organized collection on a beautiful wooden display shelf, am I right?
Image credit: Lovely Little House
To create a truly one-of-a-kind display that showcases your collection, try mixing and matching different sizes and shapes of shelves. For example, you could combine our castle and house shelves to create a fun and whimsical display that's sure to impress. 
Diorama
A diorama is a miniature scene that can bring your Sonny Angels to life. Creating a diorama is a fun and interactive way to display your Sonny Angels.
You can use a shoebox or other small container to create a miniature scene, such as a beach, park, or even a cityscape. Arrange your figurines in the diorama to make them more interesting and visually appealing.
Image credit : bubupoodle on Instagram
You can create a diorama with materials like paper, cardboard, fabric, or clay, and incorporate your figurines into the scene. This is a great option for those who enjoy crafting and creating.
Bowl or jar
For an easy and effortless display option, you can use a bowl or jar to showcase your Sonny Angels. You can arrange your figurines in a circular or stacked formation and use different-sized bowls or jars to add depth to your display.
Image credit: Syl Gervais on Pinterest
Another cute option is to fill the bowl or jar with small items like marbles or beads and arrange your figurines on top for a whimsical and fun display.
Image credit: Syl Gervais on Pinterest
Picture ledge
A picture ledge is an awesome way to showcase your Sonny Angels collection because it's simple yet elegant. Picture ledges are narrow shelves that are typically mounted on a wall and used to display framed photos or artwork. But they're also perfect for displaying your cute and charming Sonny Angels!
Image credit: cel_a_belle on Instagram 
What's great about using a picture ledge is that it creates a clean and minimalist display, which puts the focus entirely on your collection. The narrow design of the shelf means you can line up your figurines in a neat and orderly fashion, without taking up too much wall space.
If you have a large collection, you can use multiple picture ledges to create a larger display that covers more of your wall.
Bookshelf
Last but not least, you can always use a bookshelf to display your Sonny Angels. You can mix them in with your books or create a separate section just for your collection. You can add other decorative items like candles, fairy lights, or plants to create a cozy and inviting display.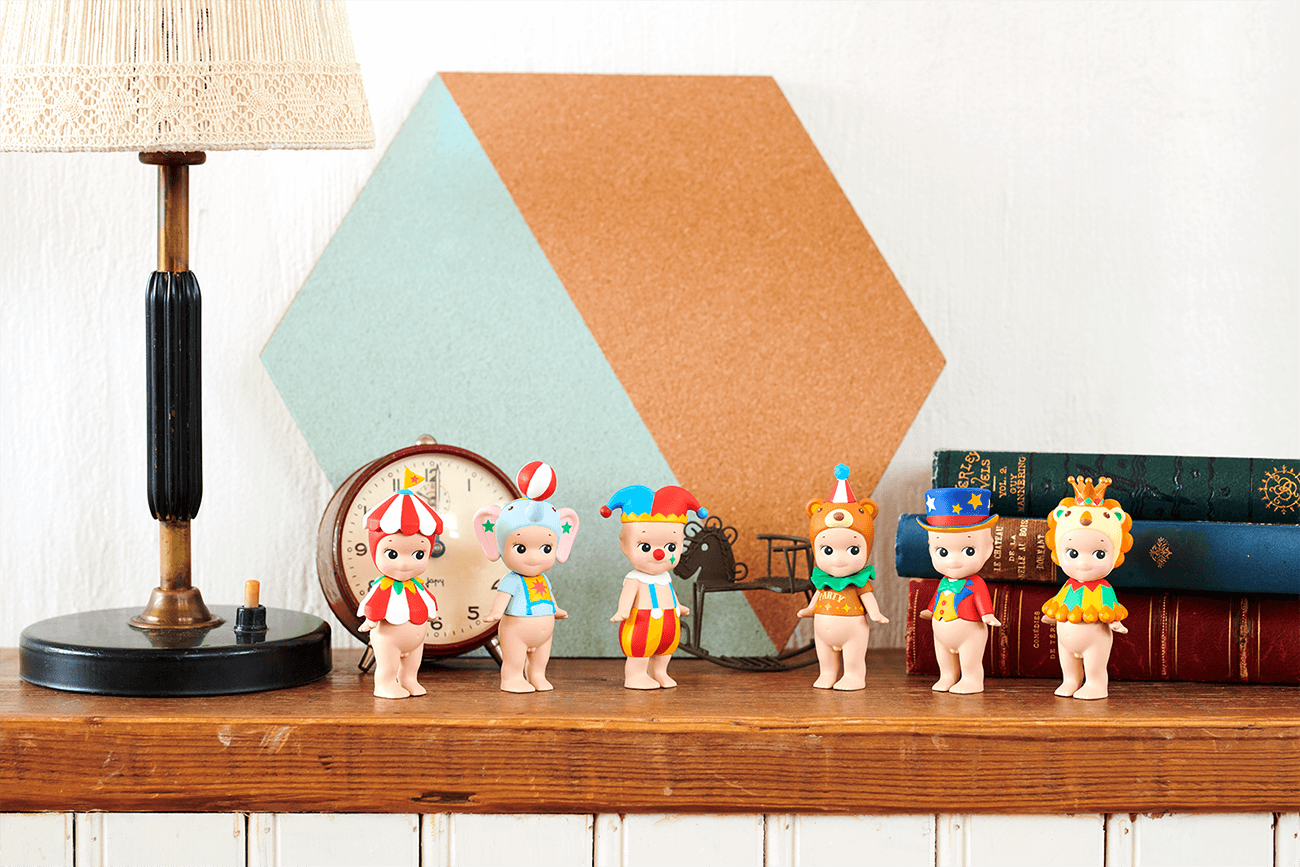 Image credit: Sonny Angels Official Website 
In conclusion
With these creative ideas, you can display your Sonny Angels collection in the best way possible. Don't be afraid to mix and match different display options or get crafty and create a diorama. Whatever you choose, have fun with it and let your personality shine through. Your Sonny Angels deserve to be displayed with pride and admired by all!
xxx
If you're into building your Sonny Angel collection, I've got a blog post all about ISO lists. It's a handy tool to help you keep track of the Sonny Angels you still need to add to your collection.
Not familiar with ISO lists? No problem at all! Just give this article a read, and you'll find out all about what an ISO list is and how you can easily create one. It's a great way to stay organized and make your collecting journey a whole lot smoother.