Welcome to Lovely Little House's Ultimate Guide to Calico Critters! We're here to share 25 fascinating facts about Calico Critters, the adorable miniature toys that have been capturing the hearts of children and collectors around the world. So, let's dive right in!
1.     
What are Calico Critters?
So, what exactly are Calico Critters? Well, they're these totally adorable little animal figurines that come in different families, such as rabbits, cats, dogs, and even bears. Each family has realistic animal features such as fur, whiskers, and tails, as well as its own unique personality, clothing, and backstory, making them perfect for imaginative playtime.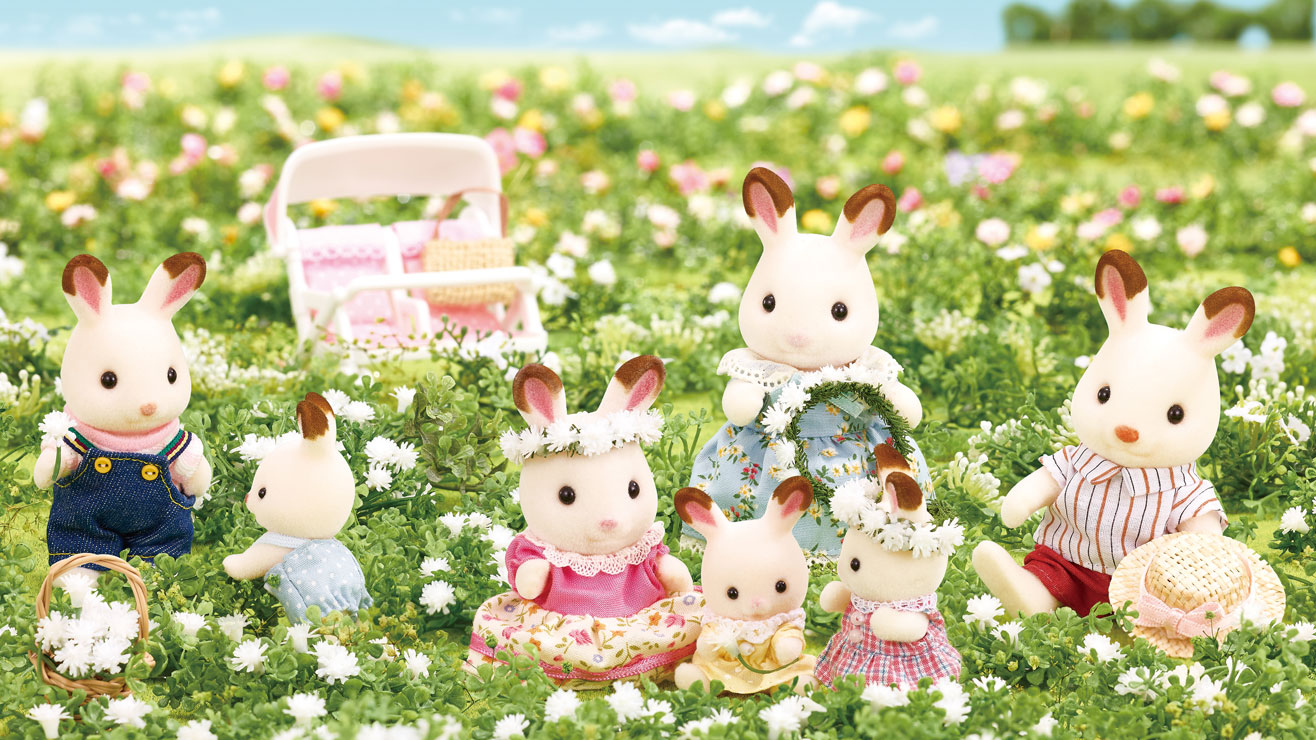 What's great about Calico Critters is that they are not just standalone dollhouse toys. They are part of a larger collection that includes playsets, miniature furniture, and even toy vehicles. You can create an entire world for your critters to live in, complete with their own homes, shops, and transportation.
And if you're into DIY projects, we've got a blog post you should definitely check out! We've gathered some amazing DIY ideas to help you enhance your Calico Critters world even more.
2.       
Who makes Calico Critters?
Calico Critters are made by a company called Epoch Co., Ltd. It's a Japanese toy and computer games company that has been around since 1958! Ranked as the third largest toy company in Japan, Epoch Co., Ltd is currently headquartered in Tokyo, Japan.
They specialize in creating high-quality toys for children that encourage imaginative play. In fact, the Calico Critters line is one of their most popular toy collections, loved by kids and parents alike.
Epoch is best known for manufacturing Barcode Battler and Doraemon video games. They also produce Aquabeads, which are the original water stick bead toy that does not require ironing or stitching. 
Epoch is proud of the timeless quality of its products. They've been loved by families for two, sometimes even three, generations.
3.       
When did Calico Critters come out?
If you're curious about when Calico Critters first came out, you'll be interested to know that they've been around for over 35 years! In fact, the miniature toy line was actually first introduced in Japan way back in 1985 under the name Sylvanian Families. It wasn't until 1993 that they were rebranded and released in the United States as Calico Critters.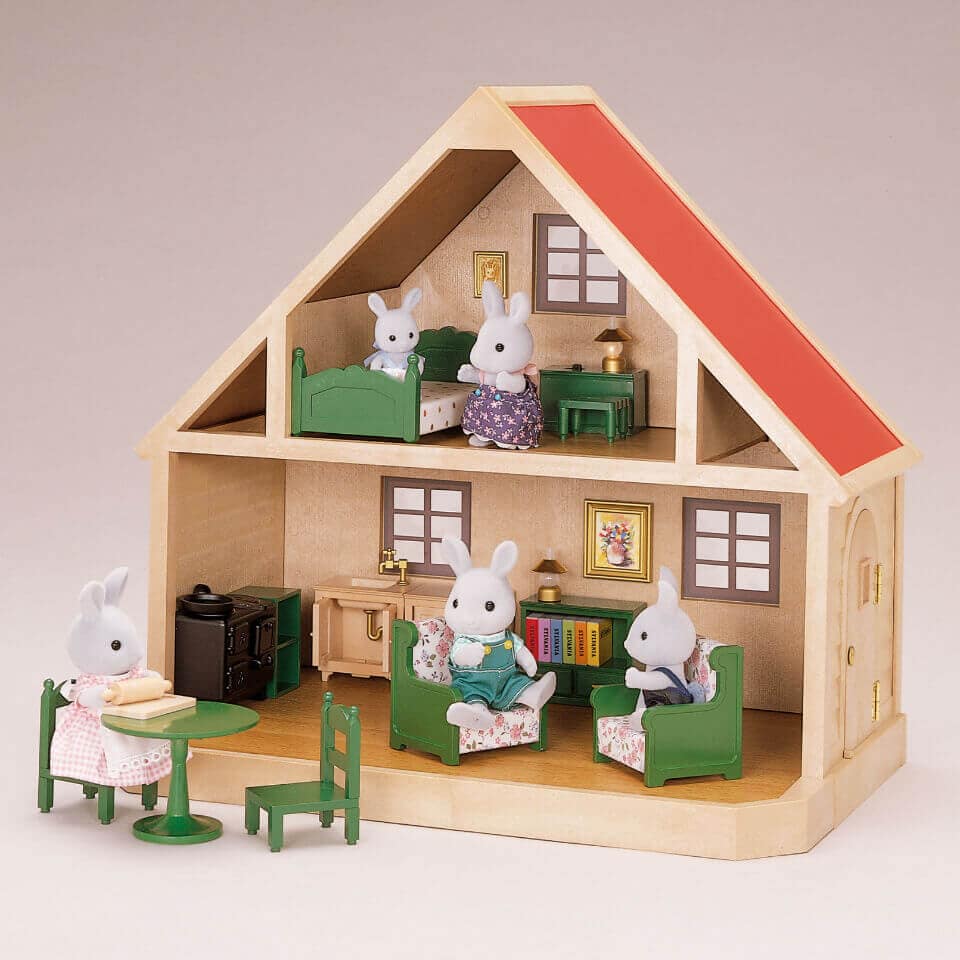 The first Calico Critters dollhouse produced in 1985. Image credit: Calico Critters Official Website
Back on March 20th, 1985, Epoch unveiled the first line of Sylvanian Families in Japan. The set included a house, 11 furniture pieces, and 9 animal families, like the Timbertop Bears, Evergreen Bears, Wildwood Brown Rabbits, Thistlethorn Mouses, Babblebrook Grey Rabbits, and McBurrows Moles.
The vintage Wildwood Brown Rabbits Family from 1985. Image credit: Brown Eyed Rose
4.       
Where are Calico Critters made?
Calico Critters are actually made in Vietnam and China, but the company that produces them, Epoch, is based in Japan. The company takes great care to ensure that all of its products are made to the highest standards of quality and safety, and they work closely with its manufacturing partners to make sure that this is the case.
5.       
Are Sylvanian Families and Calico Critters the same?
If you're wondering whether Sylvanian Families and Calico Critters are the same thing, the answer is a big yes! Both toy lines are made by the same Japanese company, Epoch Co., Ltd., and they are identical in terms of the actual toys.
Sylvanian Families was the original name of the product line when it was first introduced in Japan in 1985. TOMY brought these furry friends to North America in 1985, but they had to stop using the name "Sylvanian Families" in the early 1990s because of a legal issue. So, in 1993, TOMY came up with a new name, Calico Critters of Cloverleaf Corners, which is now simply known as Calico Critters. Today, Epoch Everlasting Play, LLC distributes Calico Critters in the US and Canada.
So what's the difference between Calico Critters and Sylvanian Families? Well, there are some minor differences between the two toy lines, such as the packaging and, until recently, some of the family and character names. But in the fall of 2022, Epoch announced that they were changing the Calico Critters' names to match the Sylvanian Families ones.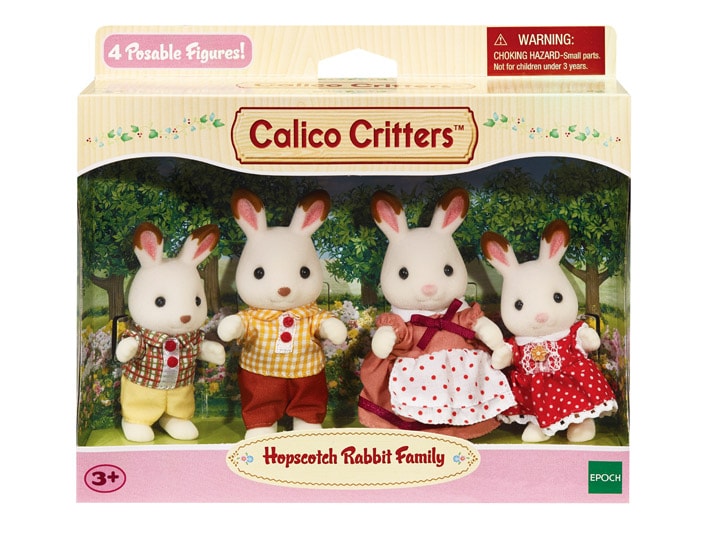 Calico Critters Hopscotch Rabbit Family. Image credit: Amazon
Sylvanian Families Chocolate Rabbit Family. Image credit: Sylvanian Families Official Website
For example, the Hopscotch Rabbit family is now called the Chocolate Rabbit Family and the Hazelnut Family is now the Walnut Family. The Pickleweed Family will be renamed Brambles and the Cuddle Family to Petite. Bell will now be known as Freya, Dominic as Ralph, and so on. The reason for this is to bring both toy lines together so fans can share stories and have common ground.
6.       
Why are they called Calico Critters?
Have you ever wondered why Calico Critters are called that? Well, when the toys were first introduced in North America, they had to change their name from Sylvanian Families due to a lawsuit. The new name, Calico Critters, was inspired by the appearance of calico cats, who have fur with a mix of different colors and patterns. Similarly, the Calico Critters toys feature characters with different fur colors and patterns, just like a calico cat.
A Calico cat. Image credit: The Spruce Pets
The word "critters" is just a fun way of referring to these cute little animal figures. So, basically, Calico Critters means "colorful animal friends" or "cute little furry creatures". It's a super cute and catchy name that perfectly fits these adorable little toys.
Calico Critters Tuxedo Cat Family. Image credit: Amazon
And by the way, the original name, The Sylvanian Family, comes from the word "Silvan," which means "of the forest," highlighting the toy line's connection to the natural world.
7.       
Where to buy Calico Critters?
You can easily buy Calico Critters from their official online shop. But if you prefer to shop in person and look for brick-and-mortar stores that sell Calico Critters, you can check out the Calico Critters store locator on the official website to find physical stores near you that carry a variety of Calico Critters products.
You can also find them on popular online marketplaces like Amazon and eBay, as well as at other retailers such as Learning Express, Barnes & Noble, Walmart, Fred Meyer, and many other toy and retail stores. Happy shopping!
8.       
What age group are Calico Critters suitable for?
You may be wondering what age Calico Critters are good for. They're usually recommended for kids between the ages of 3 to 12. Some kids might lose interest around the age of 5 or 6, while others may keep playing with them until they're pre-teens. Every child is different, so there's no one-size-fits-all answer.
Generally, Calico Critters are best suited for kids aged 3-9 because that's when they love to engage in imaginative play. These furry friends are perfect for acting out social scenarios with dolls and dollhouses, making them ideal pretend-play toys. 
But that doesn't mean older kids and even adults can't enjoy collecting and playing with Calico Critters too!
Just remember to supervise young children during playtime to ensure their safety. Although the toys are designed to be safe and durable, small parts can still be a choking hazard for little ones.
9.       
Why are Calico Critters so popular Among Kids?
Well, there are quite a few reasons why kids love Calico Critters! For starters, these little animal figures are just too cute to resist. With their soft flocking and adorable outfits, they're just begging to be played with.
Image credit: Calico Critters official Facebook page
But Calico Critters are more than just cute toys - they're also great for imaginative play. They come in all sorts of different families and characters, so kids can collect and play with a whole bunch of them.
Plus, they are incredibly detailed and realistic, which makes them the ideal role-playing toys. Kids can create their own stories and adventures for the critters, building entire worlds around them. With so many different characters and playsets available, the possibilities are endless!
Another reason for their popularity is their high quality. These toys are made to last, with durable materials and attention to detail, making them feel like special toys that kids can cherish for years to come.
10.  
Why are Calico Critters so expensive?
It's true that Calico Critters can be a bit pricier than some other toys out there, but there are a few reasons for that. For starters, these toys are made with really high-quality materials and attention to detail. From the soft flocking to the detailed outfits and accessories, these toys are built to last and withstand lots of playtime.
Another reason for the higher price tag is that there are a lot of different characters and playsets available, which means there's a lot of work that goes into designing and manufacturing them all.
But the biggest reason for the price tag is probably because of how popular they are - people love collecting these cute little critters and are willing to pay a bit more for them.
But even with the higher price, many kids and parents feel that Calico Critters are well worth the investment. They're not just toy animals, but collectible toys and a way to encourage creative play and storytelling. Plus, they're just so darn cute!
11.  
What Are Calico Critters Made Of?
So, Calico Critters are actually made of a few different materials. Their bodies and limbs are made from a kind of plastic called non-phthalate PVC, which is safe and not toxic. And their fur is made from nylon, using a process called flocking.
Their cute little outfits are made of either cotton or polyester, and the miniature houses and furniture are made from non-toxic types of plastic called HIPS, ABS, and non-phthalate PVC.
Overall, these materials are chosen to make sure that Calico Critters are both safe and durable so that kids can enjoy playing with them for a long time.
12.  
Are Calico Critters Safe for Kids?
Calico Critters are generally safe for kids to play with. They are made with non-toxic materials and undergo rigorous safety testing before they hit the market.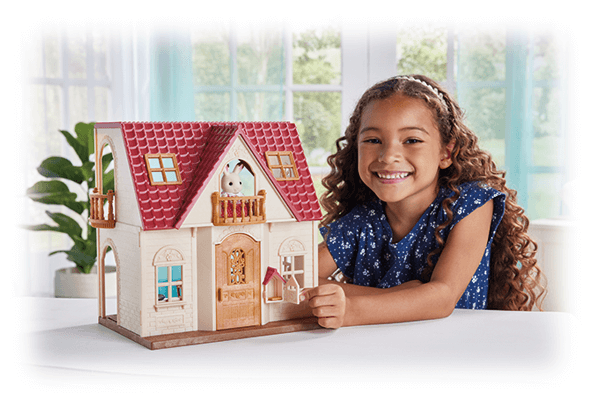 Image credit: Calico Critters Official Website
However, there have been some Calico Critters Safety recalls in the past. For example, in 2007, some Calico Critters playsets were recalled due to the potential for the plastic flowers on the sets to detach and pose a choking hazard to young children. However, the company quickly addressed the issue and offered free replacement parts to affected customers.
Just recently, in March 2023, they had to recall more than 3.2 million toys that were sold in a set with baby bottles and pacifier accessories because they pose a serious choking hazard for small children.
So it's always a good idea to check the product packaging and read any warning labels before giving them to your little ones to play with.
As long as you follow the recommended age guidelines and supervise young children while they play, Calico Critters can be a fun and safe toy option for kids!
13.  
How many Calico Critters are there
?
It's really difficult to say how many Calico Critters characters there are in total since there's no official count. However, if we look at the Calico Critters website, there are about 30 families listed, each with 4 characters: a mom, a dad, and a boy and a girl. There are also around 30 sets that feature individual figures, couples, or even triplets (usually the baby sets). So in total, there are around 180 characters available for purchase on the website.
But this doesn't account for all the Calico Critters characters that were produced in the past and are now discontinued. Also, let's not forget about all the characters that were distributed under the name of Sylvanian Families.
Let's try to estimate how many characters were produced over the years. They've been producing Calico Critters and Sylvanian Families characters since 1985. Different countries make their own exclusive sets, with some only available in Japan, the USA, or Europe. This could add up to 15 to 25 new sets released internationally each year. If they made 10 new family sets each year, that could be around 380 different Sylvanian Families sets, or maybe even more! If we add 10 more sets each year of singles, twins, and triplets, that's over 2250 characters all together!
If we compare this to some fan lists, we see that the Sylvanian Families Wiki has around 185 families listed, and the Lady Lollipop Sylvanian Families Figure Collection has 230 families listed. So, all things considered, I'd say there are probably around 1500 Calico Critters and Sylvanian Families characters out there.
14.  
What Are the Different Calico Critters Families Available?
So, you might be wondering what kinds of Calico Critters families are out there. Well, there are quite a few! In fact, over the years, more than 30 different species have been produced, but the most common ones are bears, cats, dogs, and rabbits. Each of these species has around 20 to 30 different breeds to pick from. For instance, just to name a few of the cat families, there's the Sandy Cat, Persian Cat, Maple Cat, Silk Cat, Midnight Cat, Tuxedo Cat, and plenty more!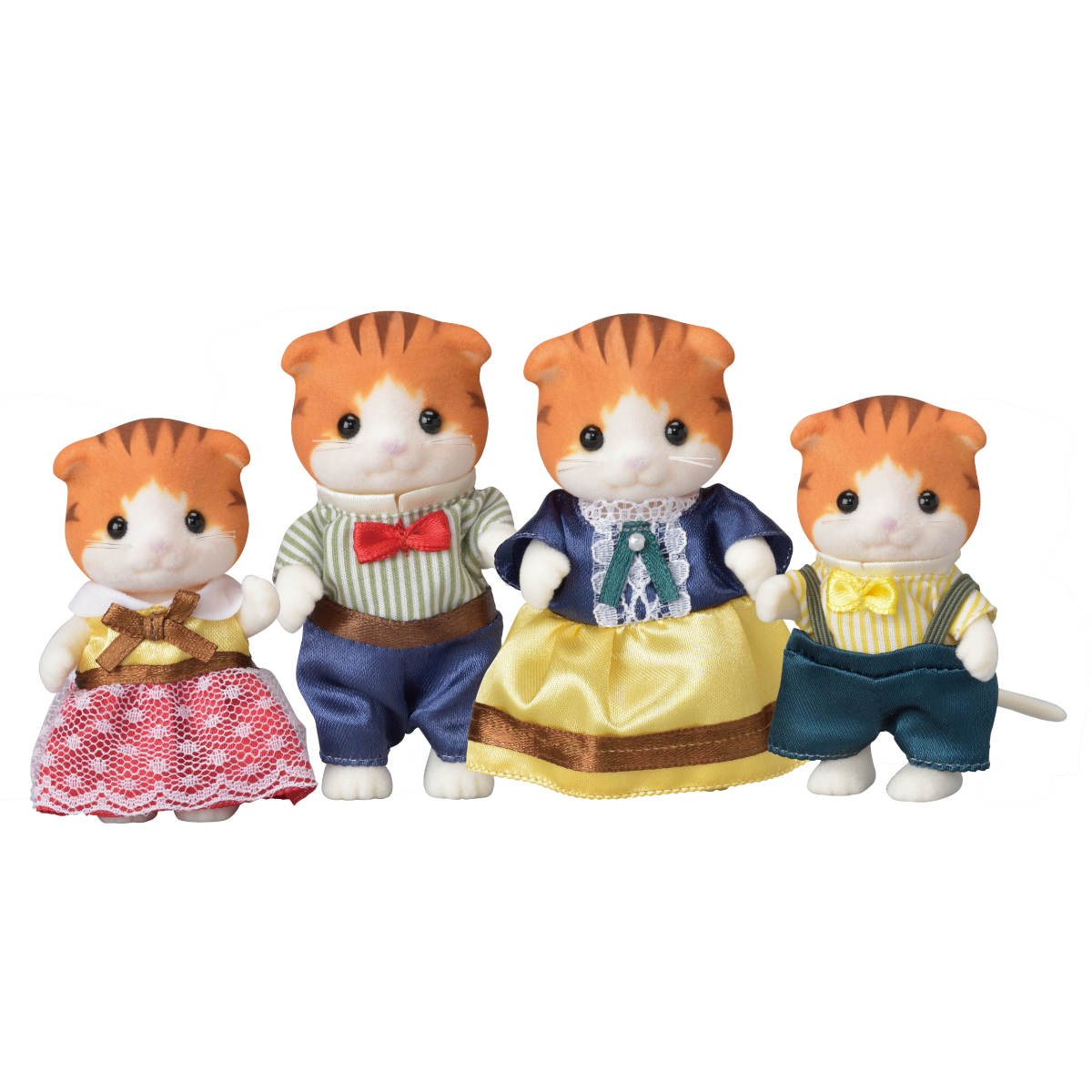 Calico Critters Maple Cat family. Image credit: Amazon
Some of the toy families are unique to their species, like the Buttercup Cow, Woolly Alpaca, Bouquet Skunk, Highbranch Giraffe, Spotter Meerkat, and Snuggly Sloth Family. 
Calico Critters Woolly Alpaca Family. Image credit: Amazon
And then there are some families that fall somewhere in between, with around 3 to 10 different breeds for each species, like mice, goats, beavers, deer, ducks, foxes, hamsters, hedgehogs, kangaroos, koalas, moles, otters, owls, penguins, pigs, and more.
15.  
What are the most popular Calico Critters families
 ?
The Hopscotch family, or in its new name, the Chocolate Rabbit Family, is the best-known Calico Critters family because they are the main characters on the "Calico Critters" television show and YouTube channel.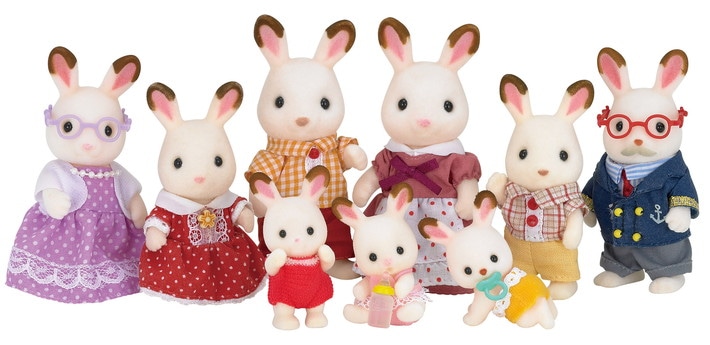 Some other popular families are the Walnut Squirrel Family, Milk Rabbit Family, Bramble Hedgehog Family, and Petite Bear Family.
The Friesian Cow Family, who goes by the surname of The Buttercups, won in 2020 the Australian favorite Family Voting Competition.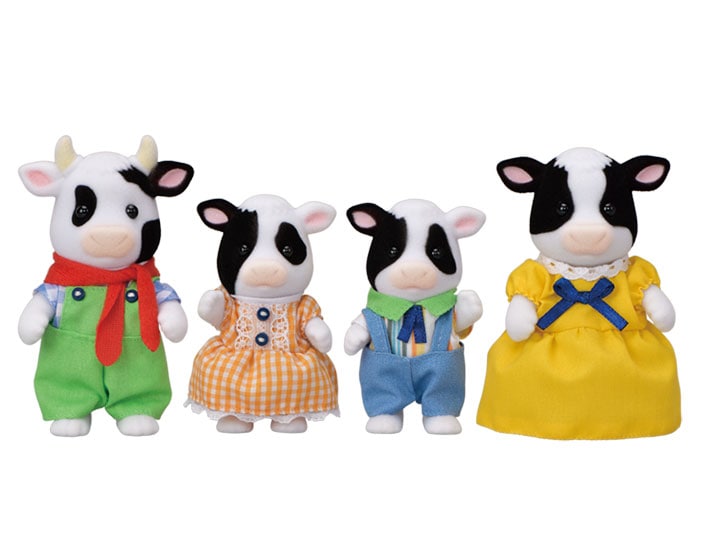 The Buttercups Friesian Cow Family. Image Credit: Sylvanian Families Official website
16.  
Where do Calico Critters live? 
You might be wondering where these adorable Calico Critters call home. Well, they live in a place called Calico village, previously known as Cloverleaf Corners. It's a cozy and harmonious little village where everyone knows each other.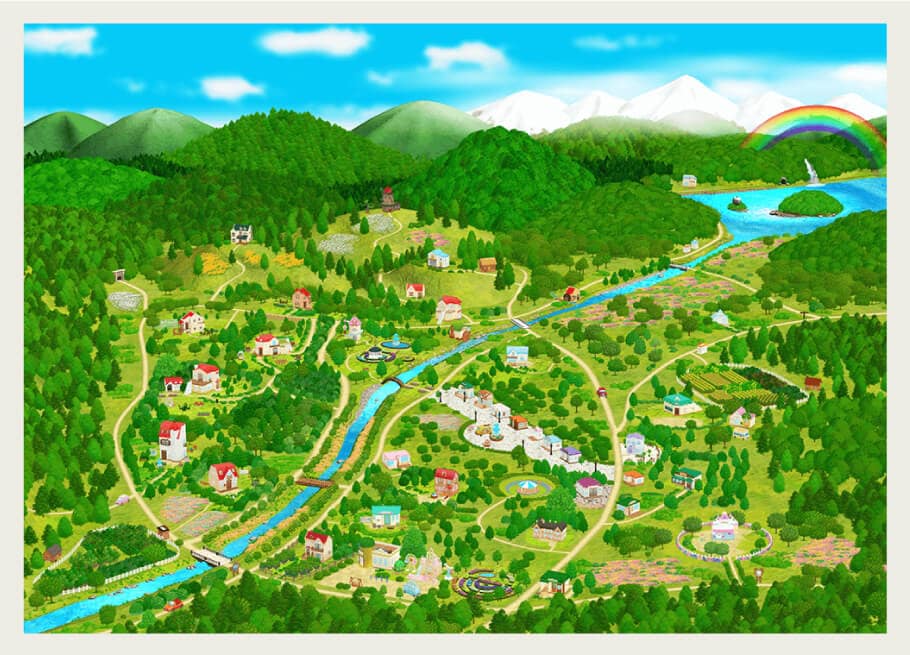 Calico Critters Village map. Image Credit: Calico Critters Official website
The critters live in all kinds of different homes, like treehouses, cottages, and even mansions. Some families even have their own farms or gardens where they grow their own miniature food. Calico Village has everything you can imagine: a bakery, a toy store, a supermarket, and many other shops where the critters can go shopping and have fun.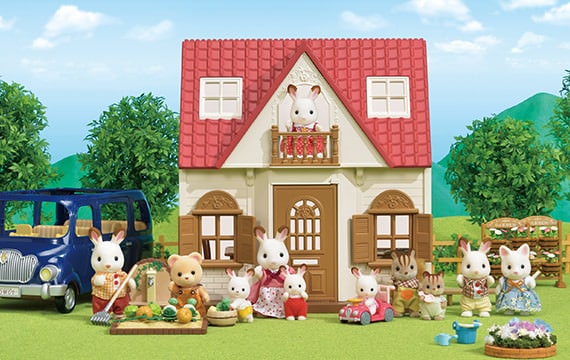 Image Credit: Calico Critters on Amazon
In 2018, the Calico Critters Town series was born with the idea of expanding their world beyond their village. It's basically a collection of playsets and buildings that make up a small town for our adorable critter characters to live, visit, and socialize in.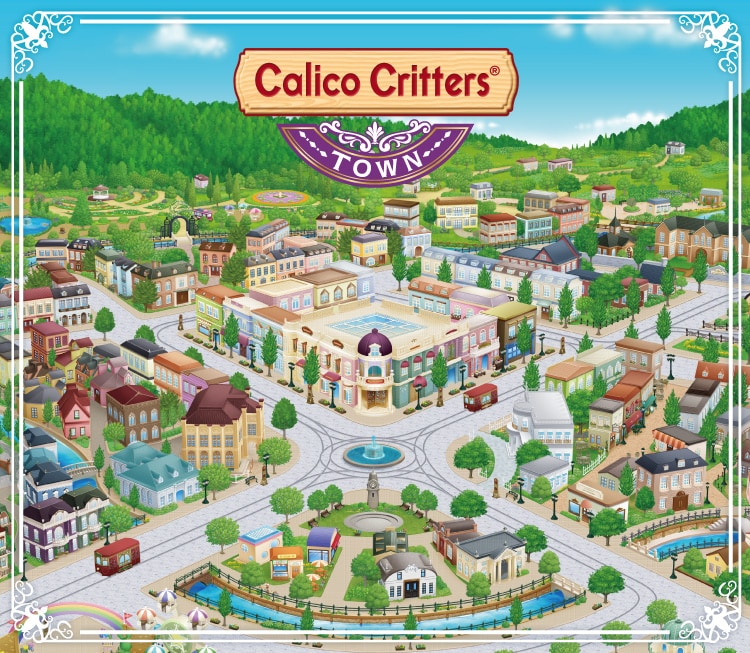 The Town series is quite different from the cozy Village series of Calico Village, with a more elegant and sophisticated vibe. You can find many buildings in this series such as the Grand Department Store, Designer Studio, Blooming flower shop, and more.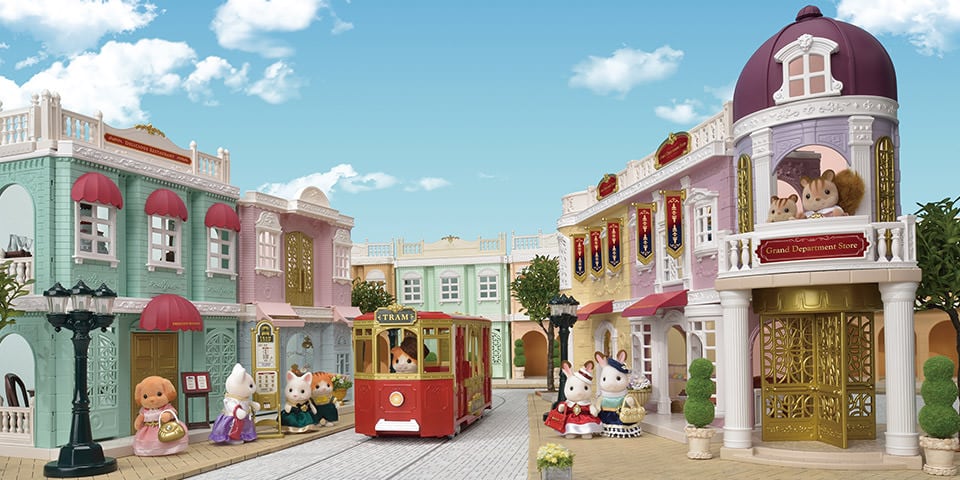 Image Credit: Calico Critters Official website
Also, just a fun fact, the Sylvanian Families live in a fictional village called Sylvania, located somewhere in North America. In 2015, as part of the Sylvanian Families' 30th-anniversary celebrations, they made Old Basing in Hampshire UK its "twin village" in real life!
17.  
What Are the Different Calico Critters Accessories Available?
Well, there are so many fun and adorable accessories to choose from! There are lots of cute little furniture sets, like a cozy living room set, a deluxe kitchen set, or even a baby nursery set, which are perfect for setting up a sweet little home for your critters.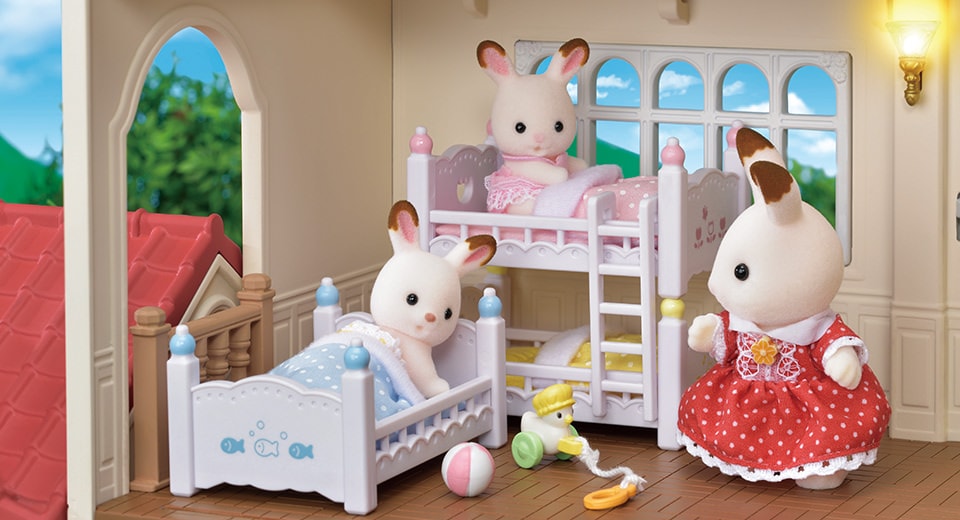 Image credit: Amazon
You can also get cool vehicle sets, like the Family Seven Seater or Yellow School Bus, which will take your critters on exciting adventures all over Calico Village.
If your critters are feeling hungry, you can get them some delicious meals from the Village Pizzeria, or Bakery Shop or prepare them breakfast with the Breakfast Playset. And don't forget about all the fun toys and games, like the Princess Dress-Up Set or Baby Amusement Park.
There are also outdoor sets like a cute camping set, the Adventure Treehouse set, or a garden barbecue set.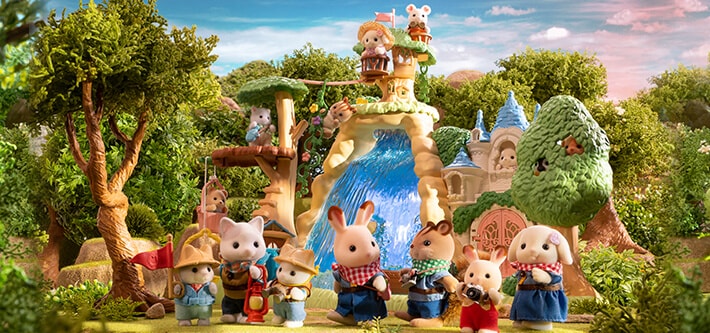 And let's not forget about the outfits! You can dress your critters up in all sorts of fun clothes, from doctor outfits to party dresses and tuxedos.
There are also seasonal sets available, like the Trick or Treat Set or Easter Celebration Set, which can add some extra fun and excitement to your collection.
There are so many options to choose from that you can really customize your critter's world to your heart's desire.
18.  
Can Calico Critters get wet?
If you're interested to know whether or not Calico Critters can go in the water, the answer is yes, they can! However, it's important to be gentle with them and avoid using hot water or soaking them for too long. Older figures are especially delicate, and their flocking may come off.
Image credit: Calico Critters official Facebook page
After washing, be sure to dry them off right away with a soft towel and let them air dry completely before putting them away or playing with them again. To prevent mold, it's a good idea to let them stand upright for a couple of days to ensure that there's no moisture left inside.
19.  
How to clean calico critters
?
To keep your Calico Critters clean and looking their best, grab a soft-bristled toothbrush and gently brush off any lint or dust. Be sure not to brush too hard as it could damage the soft flocking. Another way to clean them is by using sellotape or Blu Tack. Just press it onto any dirty areas and peel it off gently. Lastly, a lint roller works great too! Simply roll it over your critters to pick up any dust or lint.
If you need to give them a wash, it's a good idea to take off their clothes first. This way, you can avoid any color from the clothing running onto the fur. Plus, it's easier to get them clean without any clothing in the way.
Use a mild detergent or even a baby wash, and rinse them off with lukewarm water. Don't soak them for too long! You can also gently wipe them down with a damp cloth, taking care not to rub them too hard.
Image credit: Calico Critters official Facebook page
Once you're done cleaning, wrap them in a soft towel to absorb any excess water and let them air dry for at least a day to prevent mold growth. Don't try to speed up the drying process by using a hair dryer or anything hot!
Miniature clothing can get dirty too! If you need to wash your Calico Critters' clothes, here's what you can do: start by washing them separately by hand in warm, slightly soapy water. Just be sure to use soap without any bleach in it! Just like when you're doing your own laundry, it's a good idea to separate the white clothes from the colored ones.
Once you're done, gently reshape the clothes while they're still wet, and then hang them outside to dry. If the clothes have yellowed a bit, half a day in the sun should help whiten them up.
To take care of your Calico Critters, make sure to keep them clean and store them in a dry, cool place.
20.  
Is there any limited edition or rare Calico Critters available?
The answer is yes! From time to time, the company releases limited edition critters or sets that are only available for a short time or in limited quantities. These special editions can include unique characters, playsets, and even entire families. For example, the 2021 Celebration Windmill Gift Set that celebrates the 35th anniversary of the Sylvanian Families/Calico Critters line.
Celebration Windmill Gift Set. Image credit: Amazon
Additionally, some older or retired sets can become rare and highly sought after by collectors, like the Baby Gathering Set from 1993, which contains eight babies. It is considered a vintage item, and was sold on eBay in a used condition with the original box for $359.99.
21.  
How tall are calico critters
?
Calico Critters come in sizes that are perfect for small world play. The parents and grandparents in the families are typically around 3 inches tall, not including their ears, while the brothers and sisters are a little smaller at 2 and a half inches tall, not including their ears.
And let's not forget the adorable babies, who are usually only 1 and a half inches tall when standing and 1 and a quarter inches tall when crawling.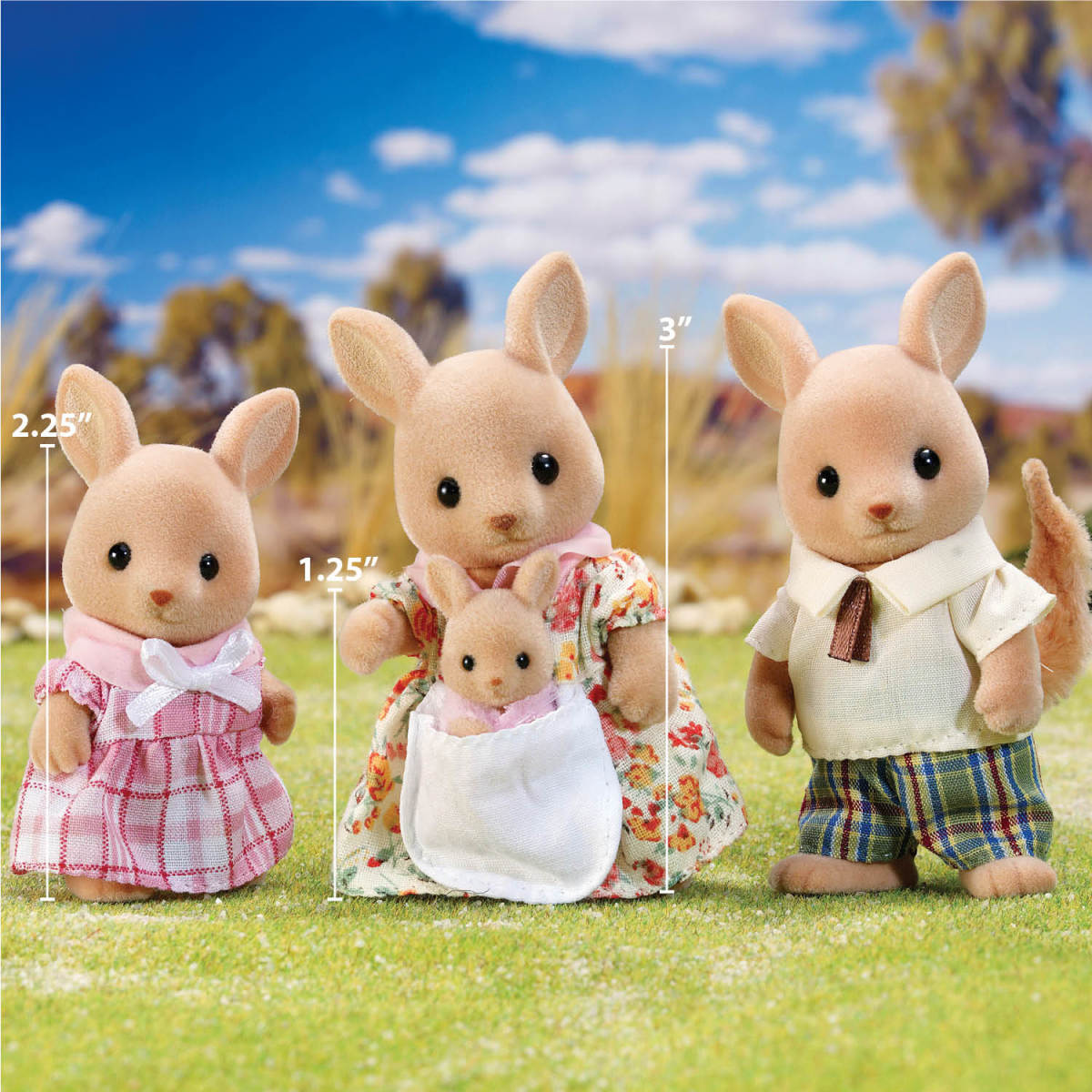 Calico Critters Hopper Kangaroo Family. Image credit: Amazon
However, it's important to note that the sizes may vary slightly depending on the specific animal or character you choose. For instance, rabbits might be a bit taller than mice or squirrels, and there are also some limited edition figures and families that come in different sizes.
22.  
What scale are calico critters?
Calico Critters are closer to a 1:16 scale, which is smaller than the standard 1:12 dollhouse scale, but a little larger than 1/2 (1:24) scale. However, you don't need to worry about finding furniture and toy accessories for them because they can still use standard 1:12 scale items. In terms of height, they are about half-scale (1:24), but in width, they are closer to three-quarter-scale (1:18).
23.  
Is there a cheaper version of Calico Critters?
If you're looking for a more budget-friendly option for Calico Critters, you might want to check out the "Li'l Woodzeez" line or "Honey Bee Acres". They're similar in style and size to Calico Critters but are usually a bit cheaper.
Oh, and by the way, we've got a blog post that compares Li'l Woodzeez and Calico Critters in more detail if you're interested.
Li'l Woodzeez Bushytails Squirrel Family Set. Image credit: Amazon
Honey Bee Acres Cheddars Mouse Family. Image credit: Amazon
24.  
Is there a Calico Critters show
 ?
Yes, there is a Calico Critters show that you can watch. It's an animated series that features short 3-minute 'mini-episodes'. The show follows the adventures of cute and cuddly Calico Critters characters as they go about their daily lives in the cozy Calico Village.
The star of the show is Bell Hopscotch, a happy young bunny. The episodes showcase fun town events like concerts and surprise parties and holidays like Halloween. There are also some dream sequences where the fuzzy friends imagine their future lives.
Although the characters are super cute, some parents think the show might not be age-appropriate enough. It seems to be aimed at young children but sometimes includes content that's better suited for tweens, like stories about ideal dates, presents, boyfriends, and party planning.
You can catch the show on various streaming platforms such as YouTube, Netflix, Amazon Prime Video, and others. So far, there are 4 seasons available to watch.
25.  
How to Store Your Calico Critters Collection?
If you're wondering how to store your Calico Critters collection, there are a few things to keep in mind.
First of all, make sure to keep them away from direct sunlight and moisture. Sunlight can fade their colors and moisture can damage their materials. Make sure to avoid damp areas like the basement or attic.
Next, it's a good idea to keep them organized. You can use plastic storage containers or small drawers to separate your critters by family or species. This way, you can easily find the one you're looking for without having to dig through a pile of critters.
However, if you want to display your collection while keeping them organized, then Lovely Little House wooden display shelves are an excellent option. These shelves are designed specifically for Calico Critters and other small figurines. They look super cute when hung on the wall and add a touch of charm to any room.
Lovely Little House Castle Display Shelf. Image credit: Lovely Little House
Alternatively, you could also use bookshelves to showcase your collection, or if you're on a budget, you can always repurpose shoeboxes or other sturdy cardboard boxes as storage containers.
Lastly, make sure to keep an inventory of your collection. This will help you keep track of which critters you have and which ones you still need to complete your collection.
Hope these tips help you keep your Calico Critters safe and organized! 
Conclusion
Thanks for reading our ultimate guide to Calico Critters! We hope you've learned something new and interesting about these adorable little creatures. Whether you're a longtime fan or a newcomer to the world of Calico Critters, we hope this guide has given you a deeper appreciation for these beloved toys. Don't forget to share your favorite facts with your fellow Critters fans and keep exploring the wonderful world of Calico Critters!