Hey there, fellow Calico Critter lovers! If you are looking for some DIY ideas to spruce up your Calico Critters collection, you've come to the right place! In this blog post, we'll be exploring some fun ways to customize and enhance your Calico Critters experience. These ideas are perfect for those of us who like to get creative and put our own personal touch on our collections.
Table of Contents
DIY Calico Critters House
A fun DIY project for Calico Critters is to create your own dollhouse. First, you'll need to decide on the size and scale of your dollhouse. As we found in our ultimate guide to Calico Critters, you'll need a 1:16 or 1:18 scale house, but can still use the common 1:12 accessories.
Now it's time to gather your materials! You can use whatever you have on hand, like a cardboard box, shoebox, wooden crate, or even LEGOs to create a cozy little home for your Critters. If you're looking for inspiration, you should definitely check out these amazing videos - one teaches you how to make a super cute DIY cardboard dollhouse cottage, and the other shows you how to recreate the iconic Sylvanian Families House on the Hill using wood and polymer clay. 
If you prefer something more structured, craft stores and online retailers offer pre-made dollhouse kits that you can customize to your liking. 
A DIY mouse house. Image credit: Kelly Jones on Pinterest
Once you have your materials, it's time to start building. Begin by sketching out your design and creating a blueprint for your dollhouse. This will help you plan out the layout and structure of your dollhouse before you start construction.
As you build your dollhouse, be sure to include plenty of details and accessories to make it feel like a real home for your Calico Critters. You can add dollhouse wallpaper, flooring, lighting, colorful bunting, and furniture you've made yourself. You can even add outdoor landscaping features like gardens and patios.
Cheerful dollhouse paper bunting. Image credit: Lovely Little House
One of the best things about building a Calico Critters dollhouse is the opportunity to personalize it to your own tastes. You can choose your favorite colors, patterns, and décor styles to create a truly unique and special home for your Critters. 
DIY Calico Critters Travel Dollhouse Suitcase
This project is perfect for those who love to travel or who want to take their Critters on the road with them. With a suitcase that doubles as a dollhouse, your Critters will have their own portable and cozy home that can be taken anywhere.
To get started, you'll need a small lightweight suitcase. You can find old suitcases at thrift stores or find new ones online, or you can repurpose an old lunch box (check out this easy tutorial!). Alternatively, you can transform a small box into a suitcase by adding a handle and latch to create a more authentic look.
Travel Dollhouse Suitcase in pink. 

Image credit: Skattich
Next, it's time to create the interior of the dollhouse. You can use scrapbook paper, dollhouse stickers or wallpaper to create the walls and flooring. To make your Critters feel at home, add some furniture and accessories like a bed, table, chairs, and even a mini kitchen. If the suitcase is large enough, you can even install a divider and create a second floor or another room. I found this cool video that walks you through the process step-by-step, so be sure to check it out!
A four-room Calico Critters Travel Dollhouse Suitcase.

Image credit: Pinterest
DIY Calico Critters Furniture
Now let's talk about furniture. While there are plenty of cute and functional Calico Critters furniture sets available, there's something extra special about making your own unique pieces.
One easy way to DIY your Critters' furniture is to repurpose everyday items you already have around the house. A matchbox can easily become a cozy bed for a little Critter baby, a cork can transform into a mini chair or stool, and even old headphones can be repurposed as a showerhead!
If you're feeling crafty and ambitious, you could try your hand at building your own furniture from scratch. One simple idea is to use cardboard or foam board to create a basic structure for a bed, sofa, or comfy armchair, and then cover it with your favorite fabric or felt. You could even use scraps of old clothing or blankets for a cozy, upcycled look. Check out this handy tutorial for a step-by-step guide. 
A table for four. Image credit: Vivs Yu
Another simple option is to use popsicle sticks to construct chairs, tables, and other furniture pieces. You can paint or decorate the sticks to match your Critters' style and personality. For some cool ideas and inspiration, I highly recommend checking out the DIY popsicle stick crafts YouTube playlist by Backyard Crafts.
If you're planning to create furniture for your miniature animal collection and want it to be compatible with other brands like Li'l Woodzeez, it's important to consider the size and proportions of your largest animals. This way, the furniture you create will work well for all of your little friends.
DIY Calico Critters Outdoors Projects
We all know how much our Critters love the great outdoors, but sometimes their outdoor spaces can feel a little lacking. That's where DIY outdoor projects come in!
First off, consider the setting for your outdoor space. You can create an inviting backyard by using a shallow container filled with kinetic sand, or even use a shoebox as a base. You can then add fake grass, twigs, pebbles, and other natural elements to make it look like a real yard.
Bunnies in a garden. Image credit: My Sylvanian Paradise
Add some fake plants or trees to make it even more alive! Build flower beds and pots from clay and fill them with miniature flowers. I found these awesome guides on Lilacs and Littles blog for creating miniature flower beds and window boxes, that's super easy to follow.
Don't forget to add some outdoor furniture, too! You can make a mini picnic table, a tiny deckchair, and a garden swing by using popsicle sticks. Another cool project is making a mini hammock using fabric scraps and string. Your Critters will love lounging outside and soaking up the sun.
If you want to take your Critters on a camping trip, you can easily create a DIY tent and sleeping bag out of fabric or even paper. Set up a tiny campfire using rocks, twigs, and tissue paper, and your Critters will be ready for a fun-filled camping adventure!
Sleeping bag for Calico Critters. Image credit: Chez Monica
And let's not forget about beach days. Use kinetic sand, shells, and even tiny umbrellas to create a beach scene for your Critters. And if you're feeling adventurous, you can even make a miniature pool out of a plastic container or a small bin. In our blog post on setting up a Calico Critters play area, we've included some helpful links to beautiful beachfront dioramas.
DIY Calico Critters Food
Another fun idea is to make your own tiny food items. Using polymer clay, air-dry clay, felt, or even paper, you can create miniature fruits, vegetables, and baked goods that will look adorable in your Critters' kitchens and dining rooms.
Mini toy kitchen. Image credit: El Nido
And if you're feeling really ambitious, you could even try making your own miniature dishes and utensils out of clay or other materials. I came across some really helpful videos that show you how to make miniature eggs on tray and a cute little salad. Check them out!
DIY Calico Critters Clothes
Next, let's talk about clothing. While the Calico Critters sets do come with some cute outfits for your Critters, it can be fun to create your own clothing items so your Calico Critters can have more outfits to choose from. One easy idea is to use fabric scraps or felt to create simple dresses, skirts, and shirts. And if you're handy with a sewing machine, you could try making more complex outfits like jackets, swimming suits, or pants.
You can find on Etsy some beautiful knitting and crochet patterns to create sweaters, hats, scarves, and more.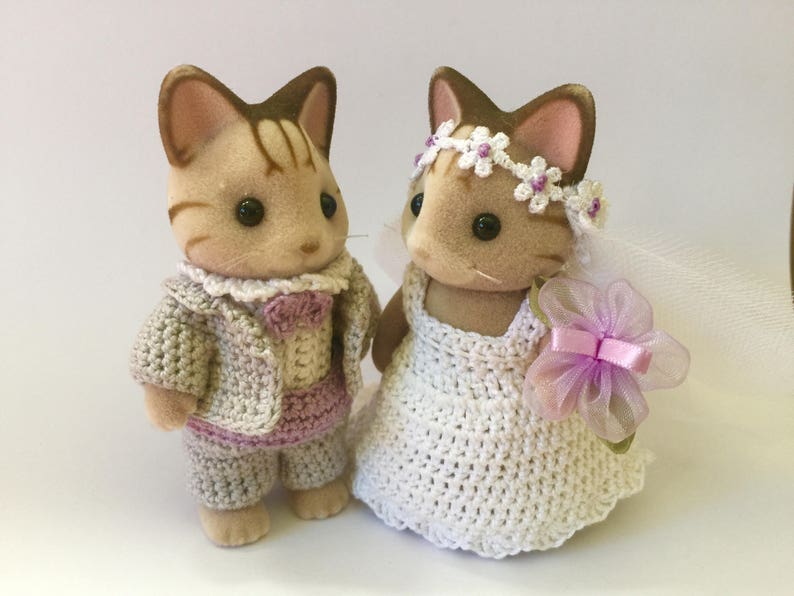 DIY Calico Critters Accessories
One of the best ways to add some flair and character to your Calico Critter scenes is through accessories!
There are so many cool accessories you can add to your Critter world, both for their home and for the critters themselves. For their home, you can create decorative cushions and quilts, framed pictures, and even tiny books and magazines made from paper. These little details can really bring your Critters' home to life!
For the critters themselves, there are endless options for accessories. You can make tiny purses, baskets, backpacks, and umbrellas for them to carry around. And don't forget about eyeglasses - you can easily make these using some bent wire.
If you're feeling up for a challenge, there are also some great tutorials out there for more complex accessories. Check out this tutorial for creating a mini wagon and an art easel - both are perfect for your Critters' playtime!
DIY Calico Critters Resources
There are a variety of great resources available for DIY Calico Critters projects. Some of the best include:
Pinterest: This platform is filled with boards and pins dedicated to Calico Critters DIY projects. You can find inspiration for everything from furniture to clothing to outdoor accessories.
YouTube: There are several YouTubers who specialize in Calico Critters DIY tutorials, including "E.D.T" and "My Mini Crafty World". They provide step-by-step instructions for creating furniture, accessories, and more.
Etsy: A fantastic source for finding unique patterns and supplies for your DIY Calico Critters projects.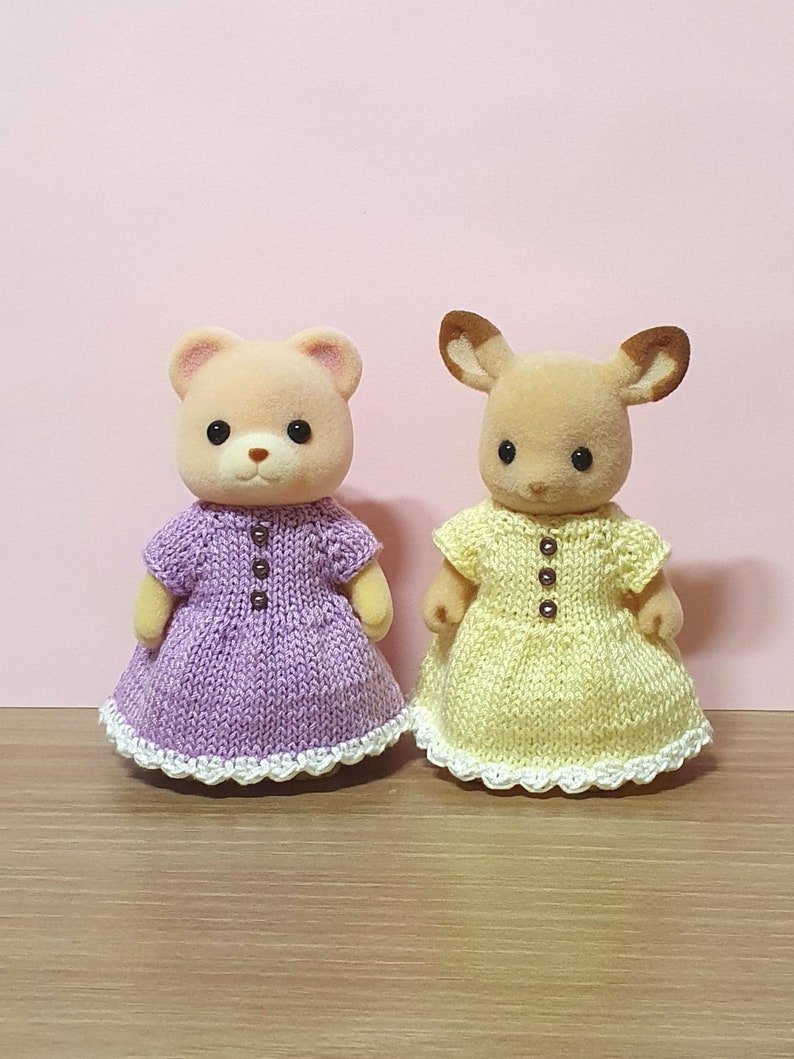 The excellent Sylvanian Families DIY makes and crafts Facebook group is a supportive community where members share their makes and gather inspiration from each other.
Finally, websites like My Sylvanian Paradise and Lady Lollipop have some cool DIY projects you can try out.
With these resources at your fingertips, you'll be able to create your own unique Calico Critters world in no time.
In summary
So there you have it, some fun and creative DIY ideas for enhancing your Calico Critters collection. Whether you're a seasoned crafter or just starting out, these ideas are sure to add some charm and personality to your Critters' world. Happy crafting!