Hey there, my fellow Calico Critters enthusiast! Today, I want to share with you some tips and tricks on how to set up the perfect Calico Critters play area. Whether you're a parent, a collector, or simply a fan of these adorable animal figurines, creating a dedicated space for your Critters to roam and play is an absolute joy. 
Before we dive in, if you're eager to learn more about Calico Critters, don't miss out on our blog post where we've rounded up 25 interesting facts about these adorable critters. It's a must-read for all Critter lovers like you. So let's get started!
Step 1: Find the Ideal Play Area Location
First things first, you'll need to find the perfect spot to create your Calico Critters play area. It could be a cozy corner in your bedroom, a dedicated playroom, or even a small table in the living room. Just make sure it's an area where you can easily access and spend quality time with your critters.
Keep in mind that the size of your play area will depend on the number of figures, playsets, and accessories you have. So, plan accordingly and make sure you have enough room for everything.
The Lay family's Calico Critters play area. Image credit: laybabylay
If you have little ones around, safety is a top priority. Keep the play area safe and out of their reach to avoid any accidents. The Lay family, for example, set up their play area in a room that can be locked, and the key is only accessible to the older children. You can also minimize risks by avoiding small objects that could be a choking hazard and ensuring any DIY materials are securely assembled.
Step 2: Decide on a Theme
Let's explore some fantastic Calico Critters play area themes together. Remember, these theme ideas are just a starting point. Feel free to mix and match, add your own twists, and let your imagination run wild!
Fairy Tale Wonderland
Step into a world of enchantment with a fairy tale wonderland theme for your Calico Critters play area. Transform your space into a magical kingdom complete with a majestic castle, a shimmering pond, and a winding forest. Add tiny crowns, magical wands, and a carriage fit for your critter royalty. Let your critters embark on exciting quests, attend royal balls, and live happily ever after in this fairy tale wonderland!
Image credit: Sylvanian Store Keepers
Beach Adventure
Bring the sun, sand, and waves indoors with a beach adventure theme. Use sandpaper or craft sand to create a sandy beach, and add mini beach chairs, umbrellas, and even a small pool for your critters to splash around in. You can also add seashells, starfish, a little surfboard, and other beachy accessories to bring the scene to life. For inspiration, be sure to check out the amazing beachfront dioramas created by Lady Lollipop and My Sylvanian Paradise, or My Stop Motion World's beach scene video toturial .
Image credit: Sylvanian Life Moments
Garden Party
Hosting a garden party is a perfect way to celebrate spring and summer! Create a garden-themed play area by adding fake grass or felt to the floor, and add miniature flowers, vegetables, and even a tiny birdhouse for your critters to enjoy. You can also add a small table and chairs, along with plates and cups for your critters to use during their garden party. Don't forget to add some bunting or fairy lights to create a warm and inviting atmosphere!
Cozy Forest Retreat
Transform your play area into a cozy forest retreat where your critters can seek solace and relaxation. Use artificial moss, leaves, and twigs to create a natural forest floor. Set up miniature log cabins, tree houses, hammocks, and a bonfire area for your critters to unwind. You can even add a tiny pond using blue construction paper and place little critter fishing rods nearby. Let your critters connect with nature, enjoy peaceful picnics, and share heartfelt stories in this tranquil forest haven.
Image credit: Nattalii
Busy Critter Town
Create a bustling town where your Calico Critters can live, work, and play! Add different establishments like a restaurant, a grocery store, a school, or a hospital. Decorate each building with colorful signs and window displays. Add streets and walkways using colored tape or paper, and set up miniature cars or bicycles for your critters to get around. Don't forget to include a charming town square, the heart of your critter town! Here, your critters can gather for community events or simply enjoy each other's company.
Winter Wonderland
If you're a fan of winter and snow, why not create a cozy winter wonderland for your Calico Critters? Use Christmas snow rolls to make a fluffy snowscape, and add miniature snowmen, pine trees, and sleds for your critters to enjoy. You can also design a tiny ice-skating rink using a mirror or shiny blue paper or build a snow fort for your critters to snuggle in. Your critters will love playing in the snow, no matter what time of year it is! 
Need some inspiration? Check out the Sylvanian Families Specialty Store's winter scene roundup. And make sure to visit the Sylvanian Life Moments blog for breathtaking winter scenes, including ice skating, winter walks, and magical Christmas moments.
Behind the scenes of a fabulous winter wonderland. Image credit: Sylvanian Life Moments
How it turned out. Image credit: Sylvanian Life Moments
Step 3: Gather Your Supplies
Next, gather your supplies. You'll need a few basic items to create an enchanting world for your Calico Critters. Here's a list to get you started:
Start with a sturdy base for your play area. Opt for a flat surface like a thin wooden board, a playmat, or even a cardboard base. This will ensure your Calico Critters stand steadily and won't topple over on uneven surfaces.
Get some cardboard boxes or shoeboxes to create different areas within your play world. These can be transformed into cozy homes, shops, or any other exciting locations.
Don't forget construction paper! It's perfect for adding colorful details and backgrounds to your scenes.
Grab your colored markers and crayons to bring your creations to life with vibrant colors and fine details.
Keep a pair of scissors handy for cutting out shapes, scenery, and other elements for your critter world.
Tape or glue will be your trusty companions for assembling your DIY structures and securing various pieces together.
Get creative with fabric or felt to add texture and scenery elements like grass, trees, or even a cozy rug for your critters to enjoy.
Modeling clay is great for sculpting small props or additional details to personalize your play area.
Consider using expanding foam crack sealant to create rocks and other surfaces. It's easy to shape and sculpt with a knife, giving your critter world a realistic touch. Sylvanako from the Sylvanian Life Moments blog used foam to create the

roof for the underground house of the mole family

. It turned out super pretty! If you're curious about how it all came together, make sure to 

check out their b

log, where they've shared all the fascinating details of creating this adorable mole house.
Step 4: Set the Stage with Scenic Backdrops
If you're looking to create an immersive and enchanting world for your Calico Critters, scenic backdrops are a must-have. These backdrops can transport your critters to different locations, such as a lush meadow, a mystical forest, a beach, or a winter wonderland. They add depth and dimension to your play area and help to create a more realistic environment for your critters to explore and interact in.
Whether you opt for store-bought backdrops or create your own hand painted one, adding a scenic backdrop is a fun and easy way to take your Calico Critters playtime to the next level. Simply set up the backdrop behind your play area, and watch as your critters come alive in their new surroundings.
Step 5: Bring Your Vision to Life
Now comes the exciting part—bringing your Calico Critters play area to life! Start by thinking about the layout and select the Calico Critters playsets that match your vision. You can choose one or many, depending on the available space. Whether it's a cozy cottage, a charming coffee shop, or an enchanting tree house, arrange the playsets in a way that creates a coherent and inviting environment. Consider the natural flow of your little Critters' world and think about how they would interact with each other and their surroundings.
Image credit: sylvaniansdownunder
Next, it's time to create the landscape that complements your chosen theme. To add some depth and dimension to your play area, consider incorporating different levels. You can use shelves or platforms to create to create hills, rocks, or even a multi-story Critter mansion. Leave enough space for the selected playsets and let nature be your inspiration. Add a touch of faux grass, sprinkle some tiny pebbles, and don't forget to plant a few miniature trees, flowers, or even create a little pond.
Image credit: Pinterest
Enhance your Critters' play area by adding your personal touch with some fun DIY projects. Get all the inspiration you need by checking out our blog post on creative DIY Calico Critters projects.
To make your play area even more engaging, divide your play area into different zones. When you have a variety of play zones, it adds depth to the play area and make it feel more like a miniature world.
Step 6: Accessorize and Decorate
It's all about the details when it comes to setting up a Calico Critters play area. Tiny accessories like food bowls, books, lamps, and even mini plants can add a touch of realism and charm. You can find a wide range of adorable Calico Critters accessories online or get crafty and personalize your play area with some do-it-yourself projects. You can make miniature artwork, curtains, wallpaper, or even outdoor equipment like bikes and tiny boats.
Step 7: Bring on the Critters!
Now that your play area is all set up, it's time to introduce your Calico Critters to their new home. Arrange them around their houses, in the garden, or even in a cozy picnic setting. Let your imagination guide you as you create stories and adventures for your critters. Don't forget to change their settings every now and then to keep things fresh and exciting!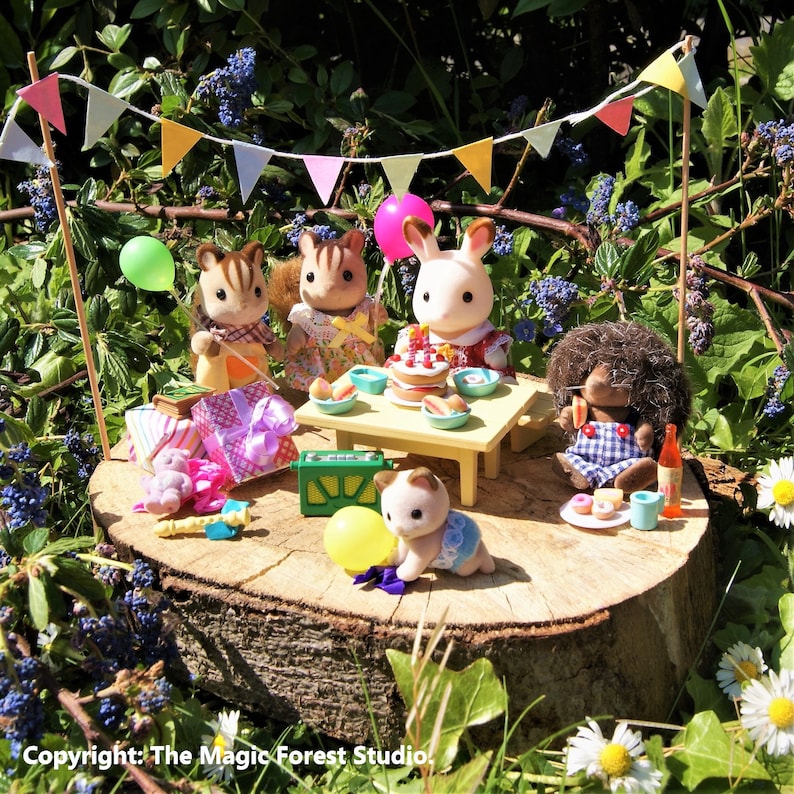 Step 8: Expand and Evolve
Creating a Calico Critters play area is an ongoing adventure. Keep an eye out for new playsets, accessories, and decorations to expand and evolve your Critters' world over time. This way, you can introduce exciting new elements and keep the play area fresh and engaging.
Wrapping Up
Creating a themed play area for your Calico Critters is an excellent way to spark imagination and make playtime even more exciting. Whether you're building a winter wonderland or hosting a garden party, the possibilities are endless. So, let your creativity soar, and let your critters explore new and exciting worlds!