If you are a fan of Calico Critters, you may have heard of Li'l Woodzeez. These two brands are often compared because they are both lines of collectible animal figures designed for children. We've actually done a detailed blog post on Calico Critters, but here's the big question: are Li'l Woodzeez the same as Calico Critters? Let's take a closer look.
What are Li'l Woodzeez? 
Li'l Woodzeez was created by Battat, a family-owned toy company based in Montreal, Canada that has been around since 1897. The Li'l Woodzeez brand came out in 2010, and since then, it has become popular among parents and children alike. Like Calico Critters, Li'l Woodzeez features families of animals, playsets, and accessories.
Li'l Woodzeez food truck and pickup truck playsets. Image credit: Amazon
If you're wondering where you can buy Li'l Woodzeez products, you can easily find them at Target stores across North America. This is thanks to a great partnership between Battat and Target, which helped to make Li'l Woodzeez more widely available in the region. You can also buy them on Amazon, Walmart, and many more stores worldwide.
Besides Li'l Woodzeez, Battat has 17 other toy brands that are sold in over 70 countries around the world, including some pretty well-known ones like Our Generation dolls, B.Toys, and Terra animal and dinosaur toys.
Are Calico Critters and Li'l Woodzeez the same size?
When it comes to size and scale, Li'l Woodzeez and Calico Critters are very similar. Both lines have adult figures that are about 3 inches tall, but Li'l Woodzeez characters are generally a bit chubbier in the body and head, with shorter legs than Calico Critters. This actually makes them easier for younger kids to hold and play with.
Now, if you're curious about whether Li'l Woodzeez and Calico Critters are compatible and can be played together, the answer is a resounding YES! Although the figures may have slightly different proportions, they're all on the same scale and work together seamlessly.
Just keep in mind that because of their rounder figures, some Li'l Woodzeez characters may have trouble fitting into certain Calico Critters' furniture and vehicles, but the Calico Critters figures should have no problem fitting into the Li'l Woodzeez furniture and vehicles.
If you're a creative person who loves DIY projects, you could try making your own furniture and accessories that work for both of these miniatures. Check out our blog post for some awesome DIY ideas that'll give you some inspiration.
What is the difference between Li'l Woodzeez and Calico Critters?
While they share many similarities, there're key differences between the two brands that set them apart. They're made by different companies, so they've got their own distinct style, quality, and price range. Plus, each one has its own set of families and accessories that make them totally unique.
Manufacturers
Calico Critters are made by the Japanese company Epoch, while Li'l Woodzeez are made by the Canadian company Battat.
Style
Another difference between the two brands is their design aesthetic. While Calico Critters has a more classic, traditional feel, Li'l Woodzeez has a more modern, whimsical design. The Li'l Woodzeez figures have oval eyes and more exaggerated features, giving them a comic, cartoonish appearance that may be more appealing to some children. The rounded body type of the Woodzeez gives them fewer posing options. 
Li'l Woodzeez Diner Restaurant Set. Image credit: Amazon
Additionally, the Li'l Woodzeez accessories and playsets often feature bright colors and playful designs, while Calico Critters tend to have a more muted color palette and realistic detailing.
It's often thought that Li'l Woodzeez are more kid-oriented, while Calico Critters have gained popularity among adult collectors too. Some people also think that Li'l Woodzeez are a more gender-neutral toy that both boys and girls can enjoy.
Quality
The clothes on Calico Critters are seriously beautiful - they're made from really nice high-quality fabrics and have all kinds of neat little details, including multiple layers of clothing that make them look even more realistic. On the other hand, Li'l Woodzeez' clothes are a bit thinner and don't look quite as well-made. They're usually a single piece with details sewn onto them, and sometimes they're not even hemmed, which can make them less durable.
Another big difference between the two brands is the flocking quality. The flocking on Calico Critters is way softer, denser, and more durable than the flocking on Li'l Woodzeez figures. You don't have to worry about it peeling off easily or anything like that.
Calico Critters Hawthorn mouse family. Image credit: Lovely Little House
And let's talk about the faces. Calico Critters have subtle, simple faces that are super expressive and sweet. The eyes are big and sturdy, and the painted features are sharp and distinct. The details on Li'l Woodzeez' faces just don't compare - the eyes are less substantial and a bit dull, and the spray-painted accents look cheap. Unfortunately, it's pretty common for Li'l Woodzeez figures to have some small flaws in their flocking or coloring.
Price
So if you're looking to buy a family set of Calico Critters, be prepared to spend at least double the price of a similar set of Li'l Woodzeez. Typically, Calico Critters family sets with four members can range from 20 to 25 USD, while Li'l Woodzeez sets can be found for around 10 to 11 USD.
Calico Critters vehicles can cost anywhere from 25 to 50 bucks, while Li'l Woodzeez vehicles range from 11 to 50 USD.
If you're looking to buy houses and shops for your Calico Critters or Li'l Woodzeez families, the prices can vary quite a bit. For Calico Critters, the cheaper houses and shops start at around 30 USD, while the fancier ones like the Grand Department Store, Elegant Town Manor, or Red Roof Country Home can cost up to 100 USD, complete with furniture and accessories.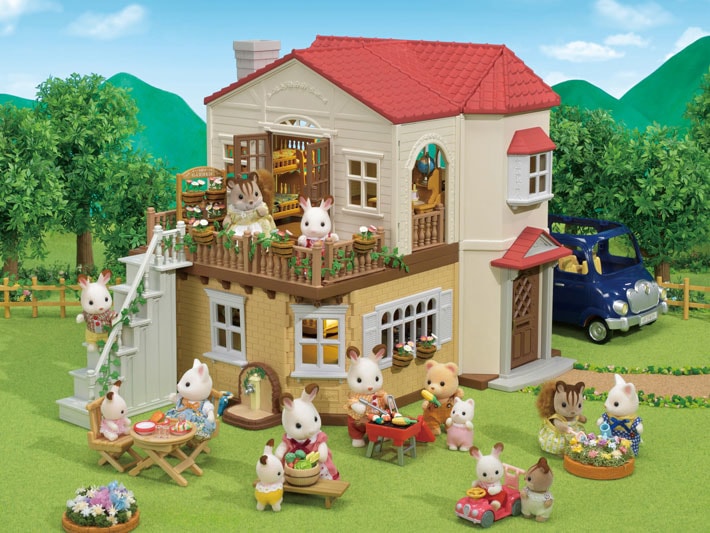 Calico Critters Red Roof Country Home. Image credit: Amazon
On the other hand, Li'l Woodzeez houses and shops are generally more affordable, with shops starting at around 13 USD and the cheapest houses at 25 USD. The pricier Li'l Woodzeez houses are around 50 USD.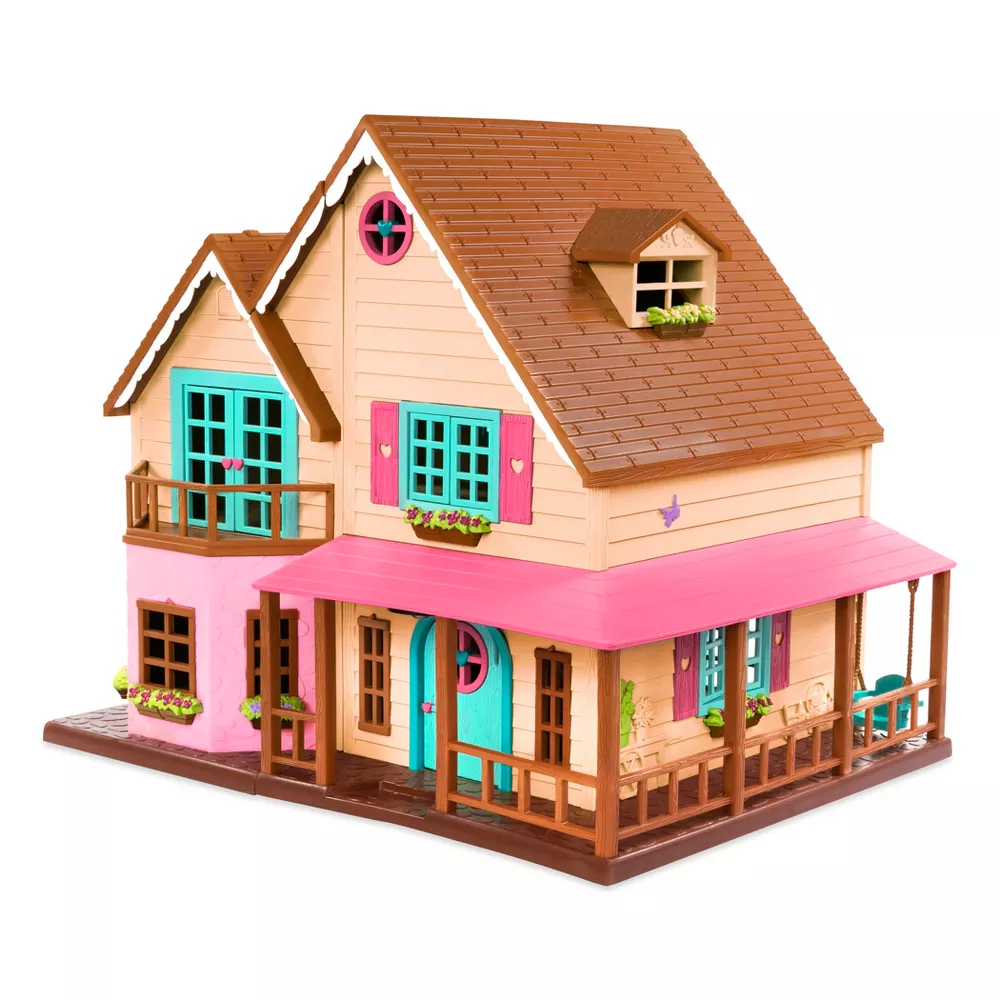 Li'l Woodzeez Honeysuckle Hillside Cottage. Image credit: Target
Families
When it comes to the animal families available, Li'l Woodzeez and Calico Critters have some similarities and differences.
Both offer families of animals such as rabbits, dogs, cats, mice, and bears, but Calico Critters focuses on offering families of different breeds under the same species. For example, they have many different breeds of dogs such as Yellow  Labrador, Chocolate Labrador, Border Collie, Toy Poodle, Husky, Shiba, Chihuahua, Corgi, Caramel, and more.
Calico Critters Yellow Labrador Family. Image credit: Amazon
Li'l Woodzeez, on the other hand, focuses on creating different species and has unique ones that are not found under the Calico Critters or Sylvanian Families brands, such as alligators, walruses, hippos, turtles, wolves, and cardinals.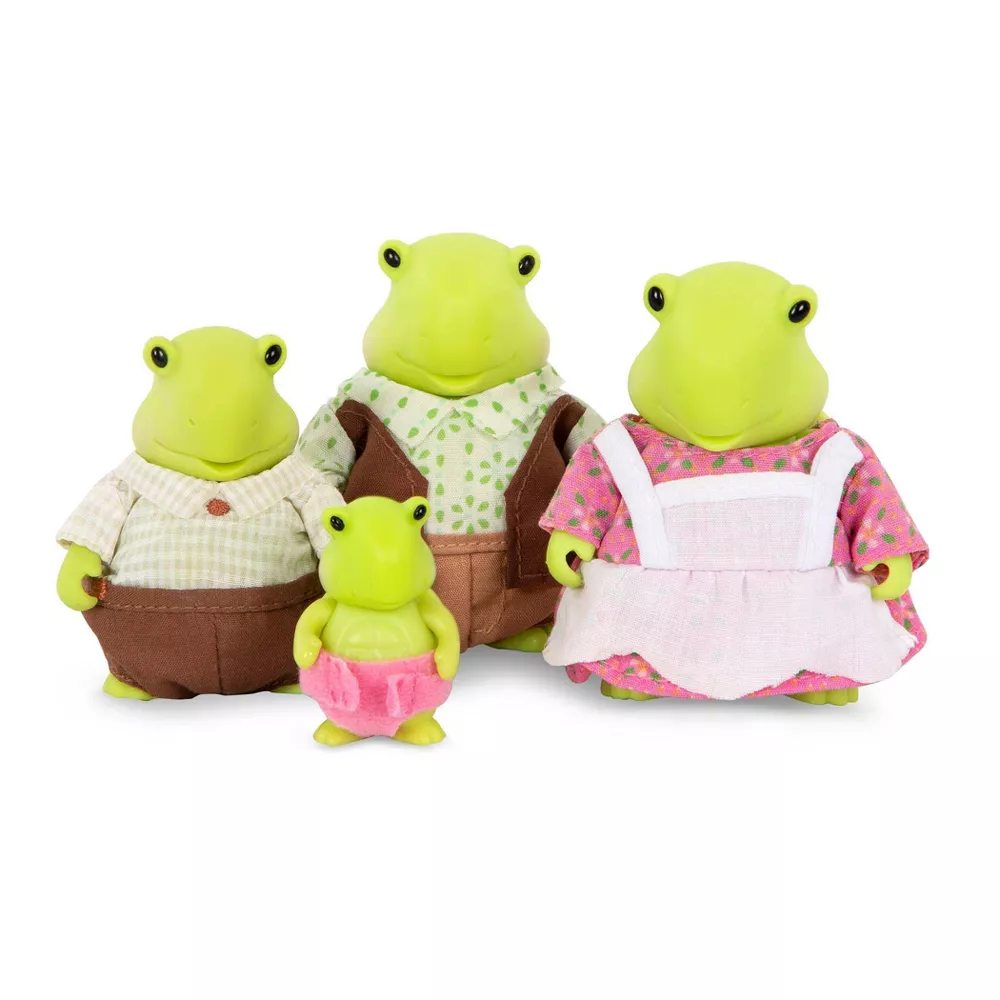 Li'l Woodzeez Tidyshine turtle family. Image credit: Target
One difference is that Li'l Woodzeez families tend to have more members included in a single set, while Calico Critters usually offer smaller sets with only four members, but additional members can be bought separately.
The Bustleberry Squirrels family set of 7 squirrel characters. Image credit: Li'l Woodzeez official website
Additionally, Calico Critters' families have more detailed backstories and personalities, with each character having their own name and occupation. In contrast, Li'l Woodzeez' characters are generally more simplified in terms of personality and backstory.
Li'l Woodzeez families are often given more descriptive names related to their woodland theme, like the Whooswhoo Owl Family or the Bushytail Squirrel Family, or the Woofington Bulldogs. In contrast, Calico Critters' families have more human-like names, like the Bramble Hedgehog Family or the Pettie Bear Family.
Accessories
Both brands have a range of fun accessories to add to your collection, such as furniture, clothing, and food items. But there are some differences to consider. Calico Critters accessories are often more realistic and detailed, while Li'l Woodzeez accessories are more playful and colorful with a woodland theme.
Calico Critters Town series Blooming Flower shop. Image credit: Amazon
It's worth noting that some of Li'l Woodzeez playsets come with a small paperback book, so you can learn more about the family's adventures. And their playsets are usually bigger and sturdier than Calico Critters.
Li'l Woodzeez Li'l Petals flower shop playset with storybook. Image credit: Amazon
Which is better Li'l Woodzeez or Calico Critters?
Are you trying to decide between Li'l Woodzeez and Calico Critters? Well, it's not really a matter of which one is better because they're both great in their own ways!
Li'l Woodzeez has its own unique charm with adorable chubby animal figures and a variety of playsets and accessories, while Calico Critters offers a more realistic and detailed style with a wider range of animal families and settings.
While some adult collectors may have their preferences, most kids actually can't even tell the difference between the two brands. They'll usually just happily play with whichever ones they have, and mix and match them together.
Calico Critter Hedgehog Family. Image credit: Lovely Little House
That being said, if you're on a tighter budget, Li'l Woodzeez is a great alternative to Calico Critters. You can get twice the number of animal friends and playsets for the same price, which is a great value. Of course, some parents might prefer to spend more for Calico Critters if they value quality over quantity and want a toy that will last, so it really depends on your personal preference.
At the end of the day, why not give both a try and let your kids decide which they prefer? They both offer a wide range of characters, playsets, and accessories that will spark their imaginations and provide hours of fun.
So, are Li'l Woodzeez the same as Calico Critters?
The answer is no, they are not the same.
At first glance, Li'l Woodzeez and Calico Critters may seem similar in many ways. Both lines feature collectible animal figures with detailed clothing and accessories, and they are designed to encourage imaginative play among children. Additionally, both brands are made with high-quality plastic and attention to detail.
But although they share some similarities, they are actually two separate toy lines made by different companies. Whether you prefer the classic look of Calico Critters or the whimsical design of Li'l Woodzeez, both brands offer plenty of opportunities for imaginative play and fun.
In conclusion
If you are a fan of collectible animal figures, both Li'l Woodzeez and Calico Critters are worth checking out. While they are not the same, they both offer great play experiences that encourage creativity and imaginative play. So why not add a few of each to your collection and let your child's imagination run wild?
And speaking of collections, we've got the perfect way to display your beloved animal figures! Our display shelves are perfect for keeping your little critters organized and on display for all to see. Plus, they make great additions to any room's decor. So go ahead and check our castle and house shelves, we're sure you'll love them!
Lovely Little House Castle Display Shelf. Image credit: Lovely Little House