The magical and mystical nature that surrounds fairies is probably the reason that so many little girls have so much affection for everything about them.
In this post, I'll share lots of ideas on how to create a beautiful fairy-themed bedroom along with examples of products and DIY projects that can help you bring these ideas to life.
There's no one right way to create a fairy theme for your little girl's bedroom, so don't feel pressured to implement all the ideas suggested here. Whether you choose to follow all the tips or even just one, you are still guaranteed to spark her imagination.
So, let's get started!
1. Fairy Lights
The first thing you'll want for creating a fairy-themed bedroom is fairy lights. Fairy lights are electric garlands, also known as string lights or twinkle lights. These little lights are not very bright, as their main purpose is decoration (these are the same kinds of lights everybody uses to decorate a Christmas tree).
You can hang fairy lights around the walls, on the door, or even on the ceiling!
Image credit: The Pink Dream, Design by CERES
Which type of fairy lights should I use?
I prefer to use battery-operated fairy lights in a child's bedroom, as it feels safer to me. If you choose plug-in lights, make sure to place them near an electrical outlet so you won't need to use an extension cord.
When it comes to the bulbs, select the mini-LED ones, and choose warm white lights instead of bright primary ones.
Which fairy light shape should I choose?
Fairy lights come in different shapes. One kind that can help to bring out a fairy theme is green leaves fairy lights. The leaves also make the room look nice in daylight, even when the lights are off. The leaves are often made of plastic or fabric, and usually come in the shape of ivy leaves, but I've also seen them shaped like other plant types.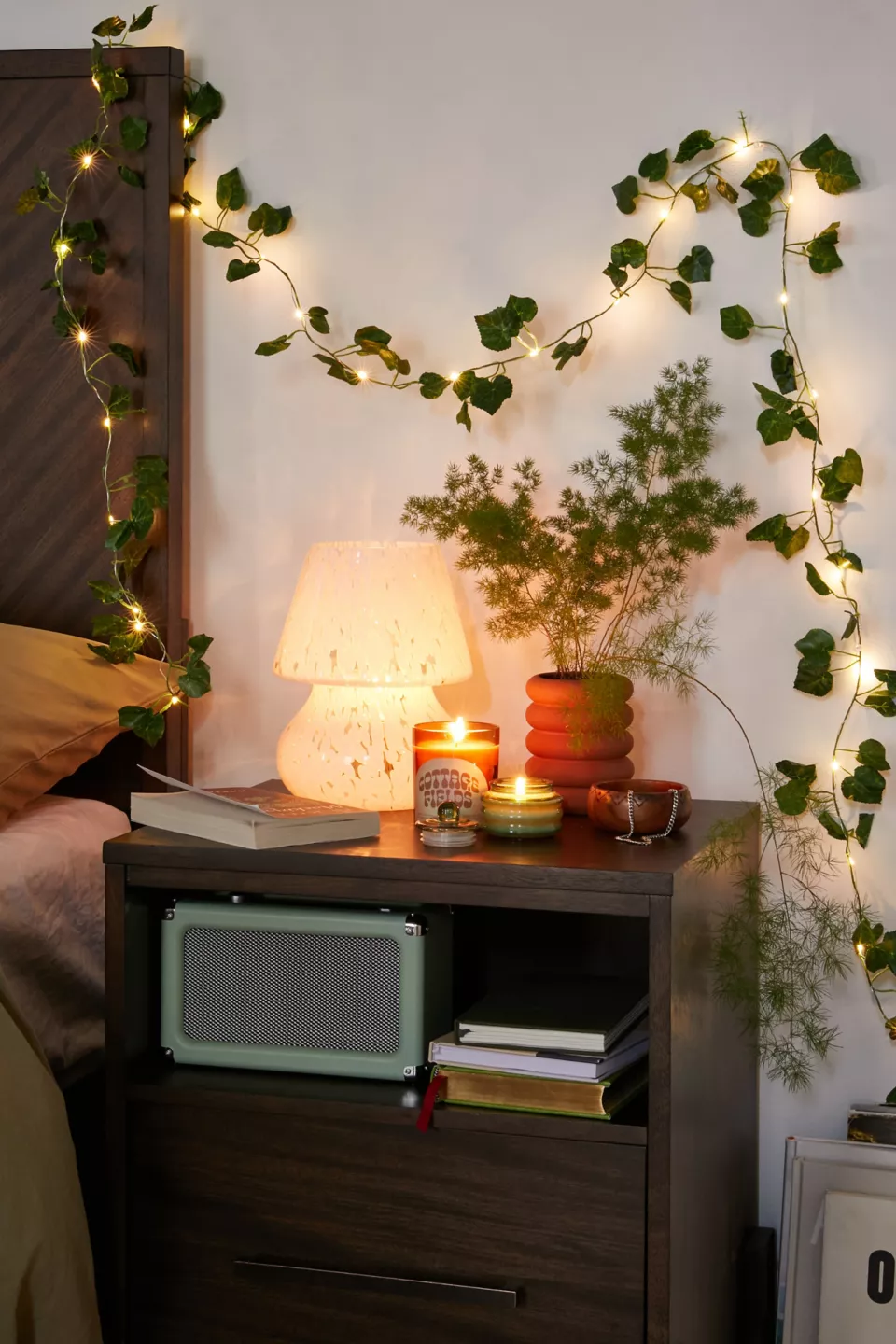 Image credit: Ivy Vine String Lights by Urban Outfitters
If you already have regular fairy lights, and you don't want to spend the extra money on buying green leaves fairy lights, a simple way to create a similar effect is to print little paper leaves and tape them to the lights.
Here are a few examples of Green Leaves fairy light ideas.
Image credit: Target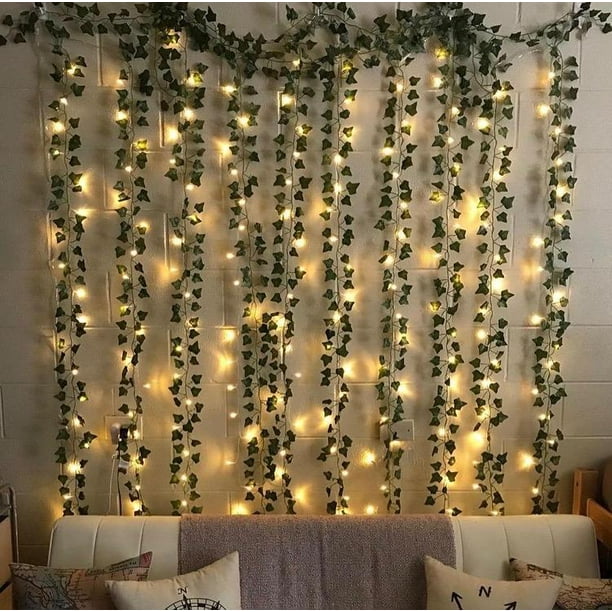 Image credit: Tapestry Girls LED Wall Vine Lights
2. Fairy Doors
Legend states that fairy doors are a magical portal between our world and the fairy realm. Fairy doors are essentially a magical tool to boost your child's sense of wonder and encourage imaginative play.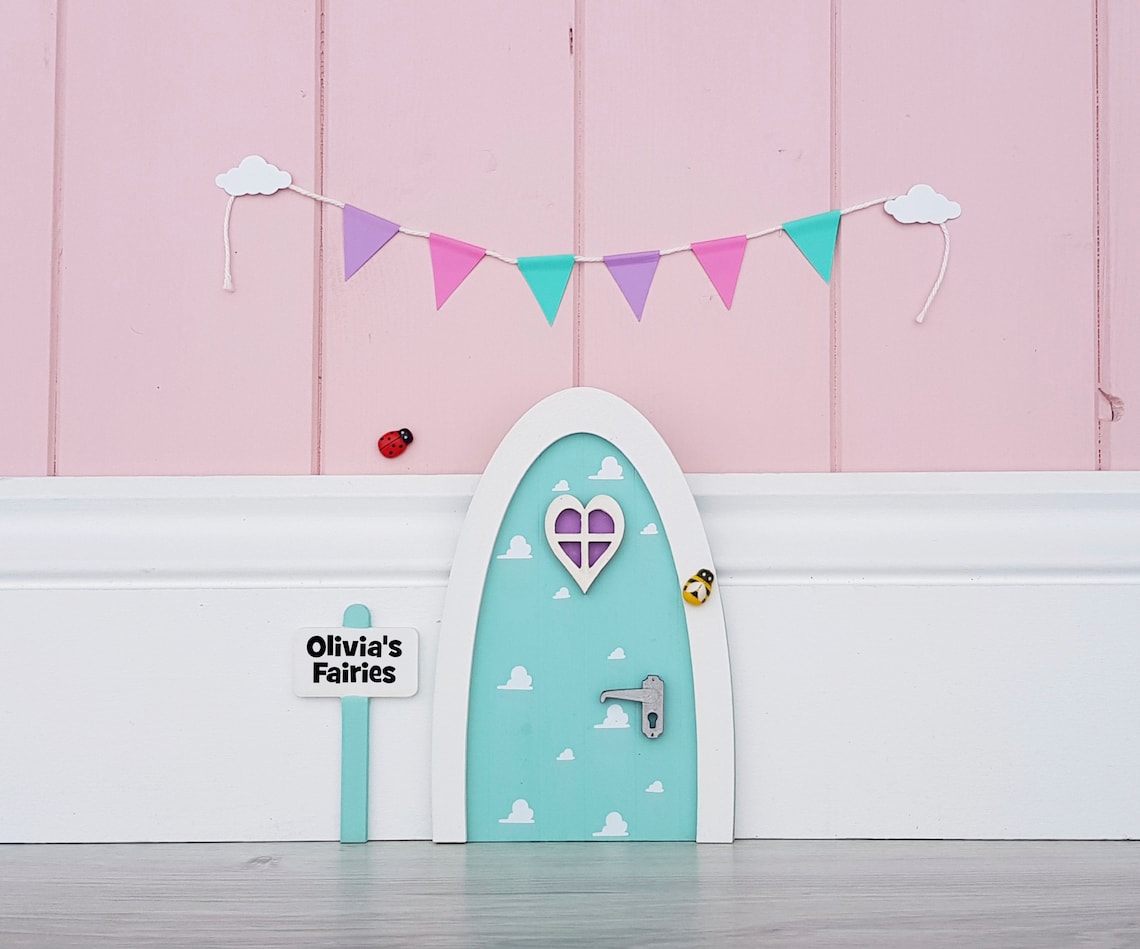 Image credit: MapleAndGrace via Etsy
By attaching a fairy door to a wall, shelf, or cupboard, you create a magical doorway to a place of make-believe for fairies to enter!
Image credit: kate's Creative Space
Image credit: Amazon
3. Furniture Pieces
Now it's time to add bedroom furniture. Furniture in white or in light-colored wood won't weigh down the room, and natural materials, such as rattan or bamboo, enhance the fairy forest theme.
A great place to start is with a vintage-inspired armoire or dresser. Something wooden and roomy will do the trick, along with a weathered-wood finish to bring some old-fashioned charm.
Image credit: Noa & Nani
Including a great bookshelf in your kid's room will not only add to the old-world aesthetic, but it will make sure all the brilliant stories that have inspired her room decor are only an arm's length away.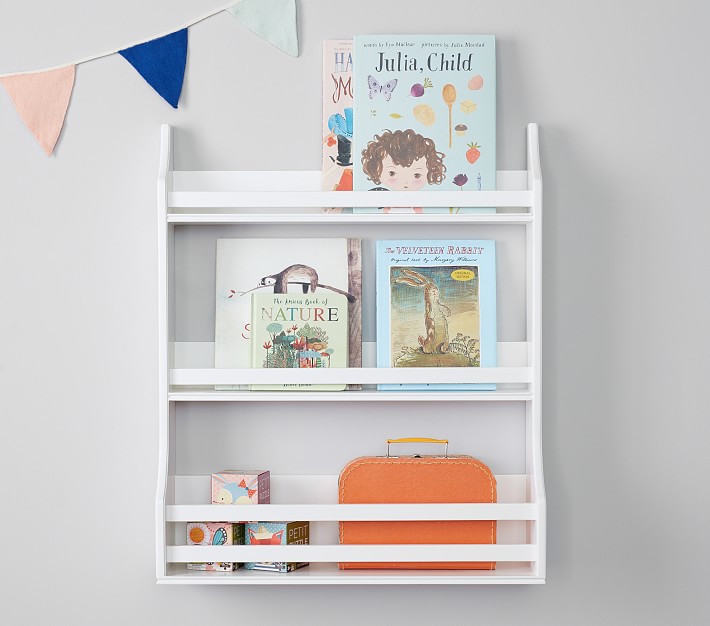 Image credit: Pottery Barn Kids
For a nightstand, you can pick a toadstool chair or a tree stump stool.
Image credit: Amazon
Image credit: Amazon
A wooden swing or a hanging chair hung from the ceiling will add a lot of fun too!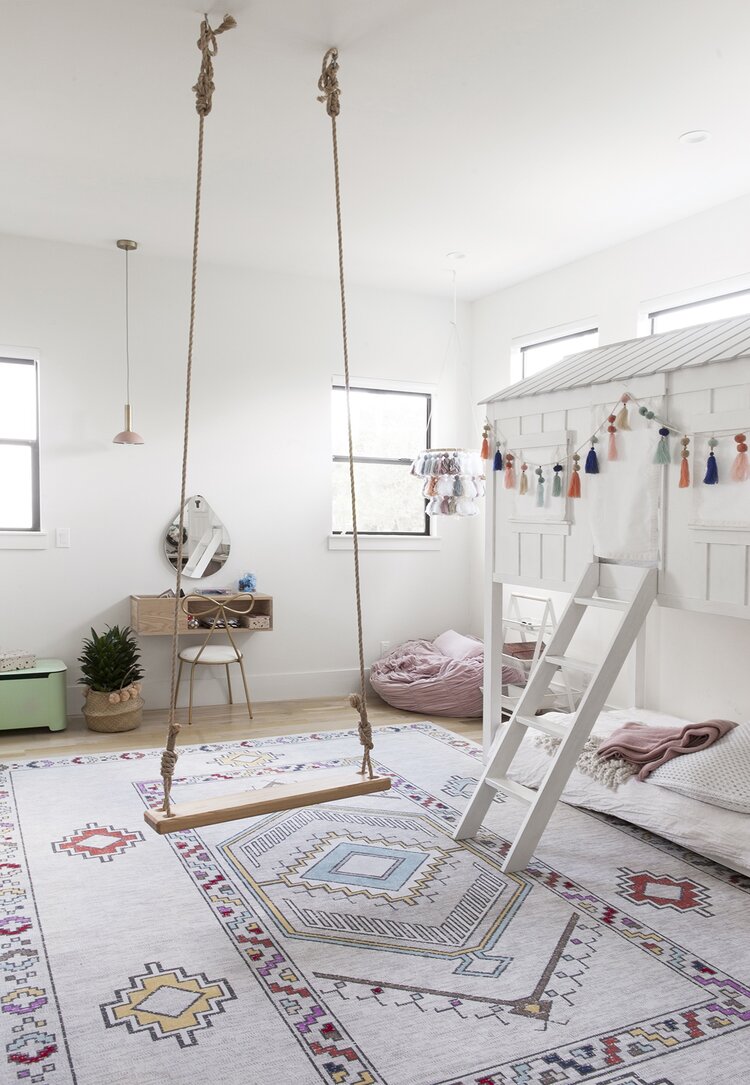 Image credit: Design by Urbanology Designs / Photo by Matti Gresham Photography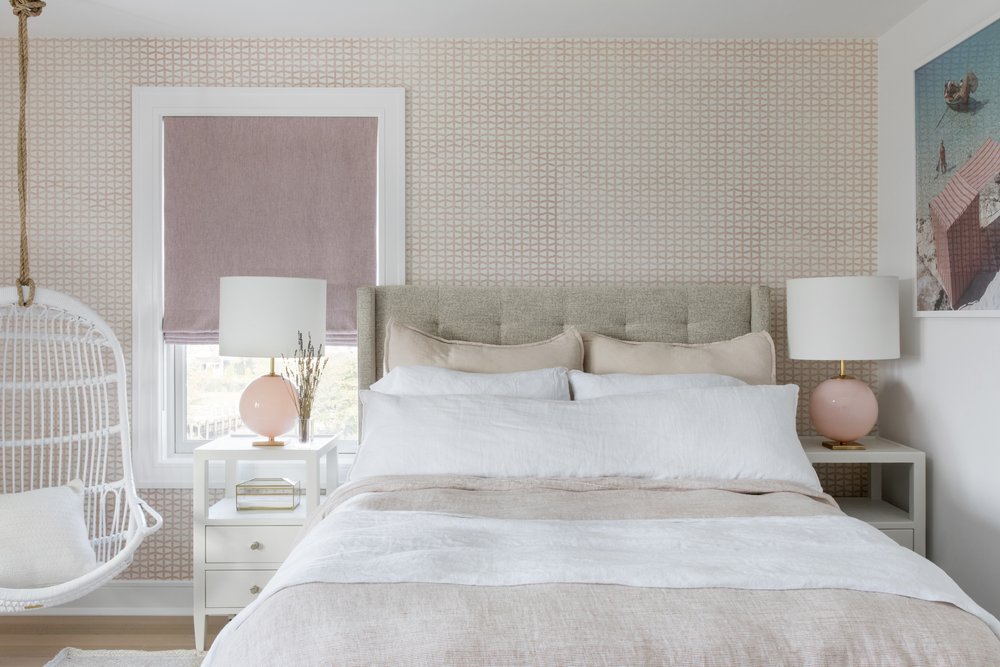 Image credit: Christina Kim Interior Design
Image credit: Design by And Then They Went Wild
4. Mason Jar
A mason jar is a glass jar with a wide mouth and a metal lid. There are 2 different ways to use these jars to emphasize the fairy mood of the room.
Firefly Lantern
Let's start with the firefly lantern. This one can be made as a really simple DIY project, or you can just buy one online. All you need to turn a mason jar into a firefly lantern is to fill a mason jar with a string of fairy lights. The fairy lights that come on thin copper wire will look best here. Hide the control on the underside of the lid with tape and add a metal hanger to the sealed jar. And voila! You just caught yourself some fireflies to brighten your daughter's room!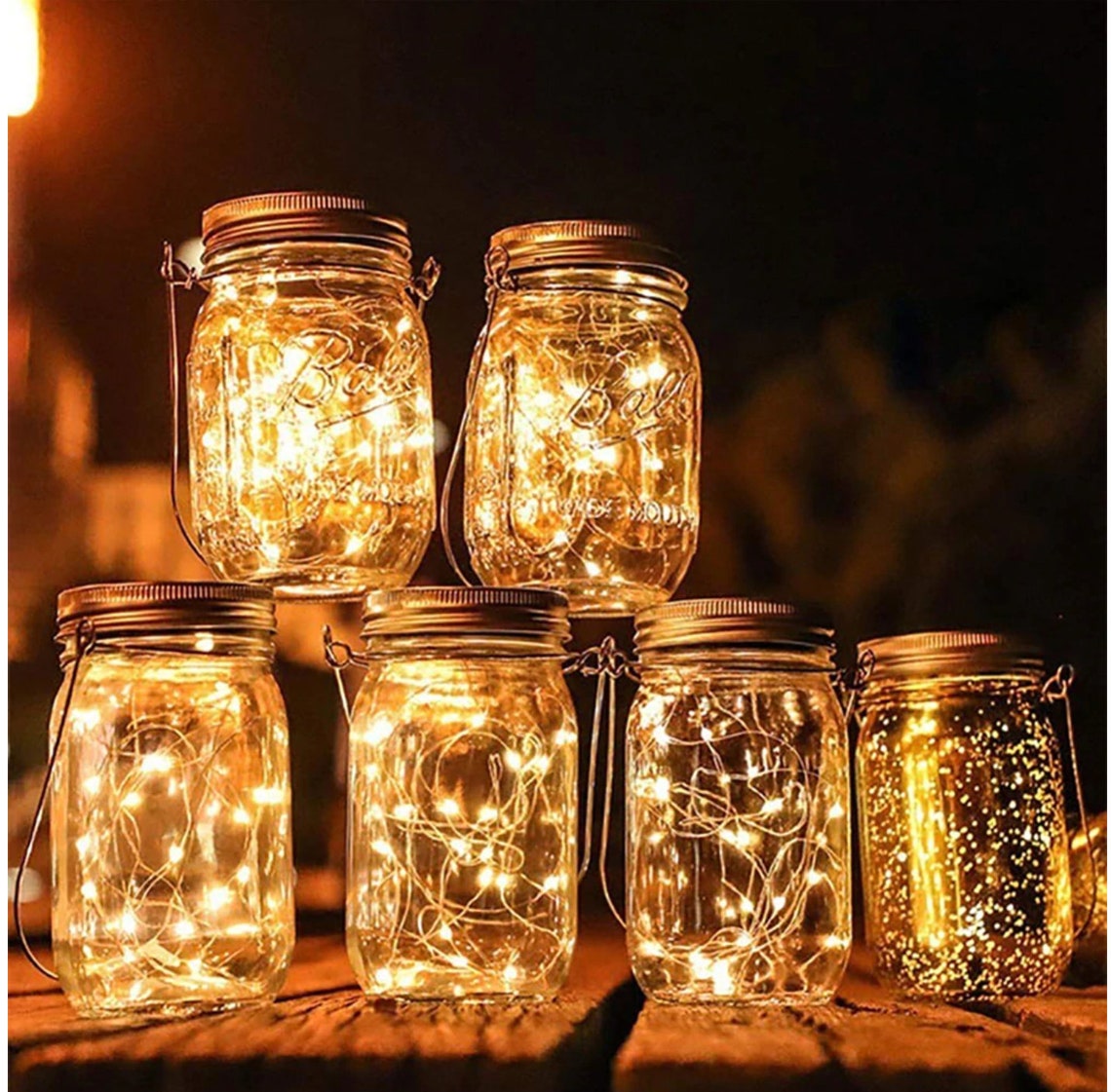 Image credit: MetalAndLightShop via Etsy
Fairies In A Jar
This next idea is called fairies in a jar. It's a bit more difficult to create than the firefly lantern but can definitely still be done at home. You'll need to glue a fairy silhouette to the inside of the jar, paint the outside of the jar white, and add some glitter. Once the paint dries, add fairy lights, and seal the jar with the lid. You can wrap some twine around the top of the jar to cover the lid and glue some flowers on it to make it look super cute. Here is a YouTube guide for the DIY project, as well as a link to buy ready-made jars.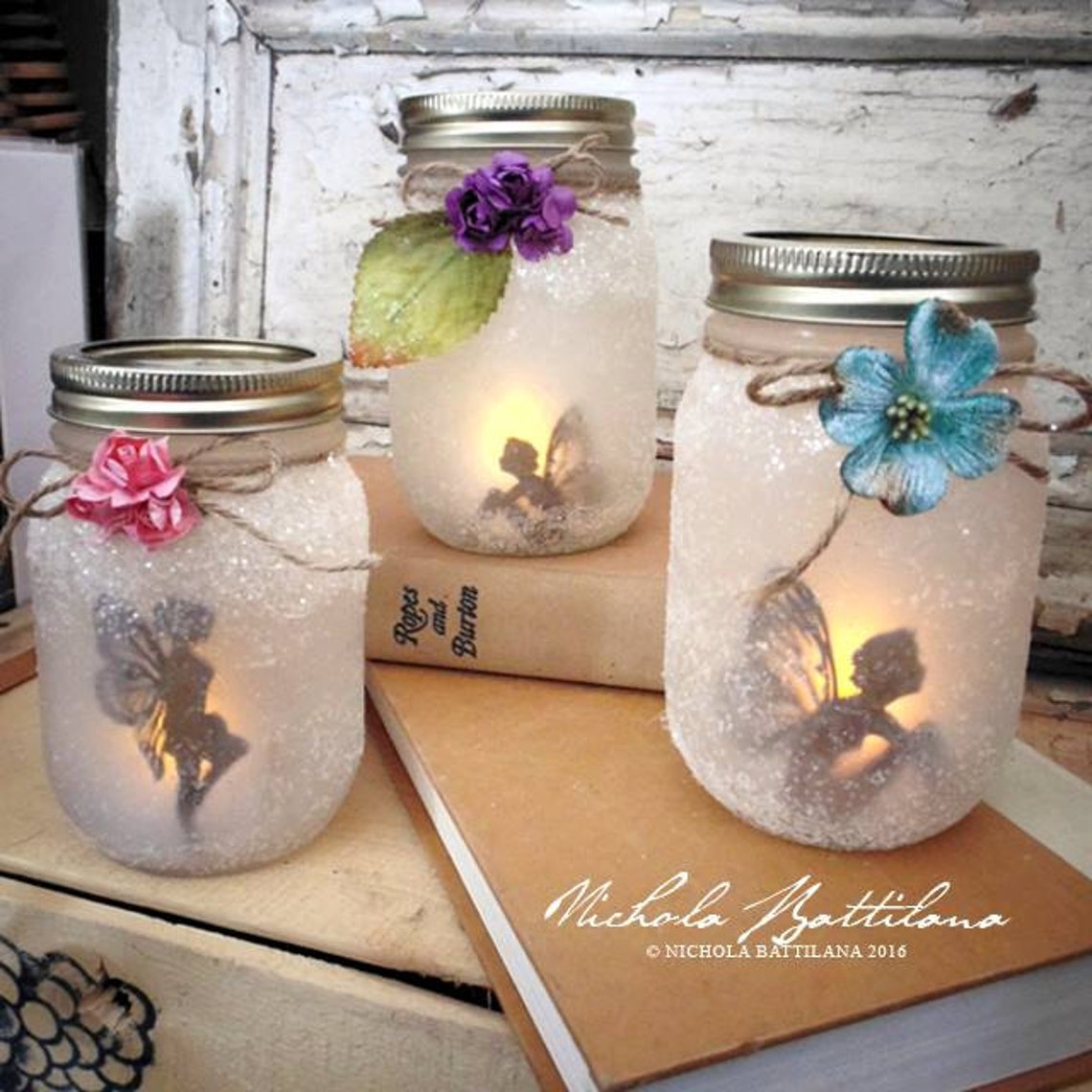 Image credit: PixieHillStudio via Etsy
5. Fairy Wall Decals
Now we want your daughter's walls to match the rest of this new magical space.
There are a nice variety of fairy-themed wall stickers over on Etsy.
You can put little fairy decals throughout the room: near the door, the bed, or a window.
Try not to overdo it. Bear in mind that pixies and fairies are always flitting around, and the room should reflect their light and airy nature.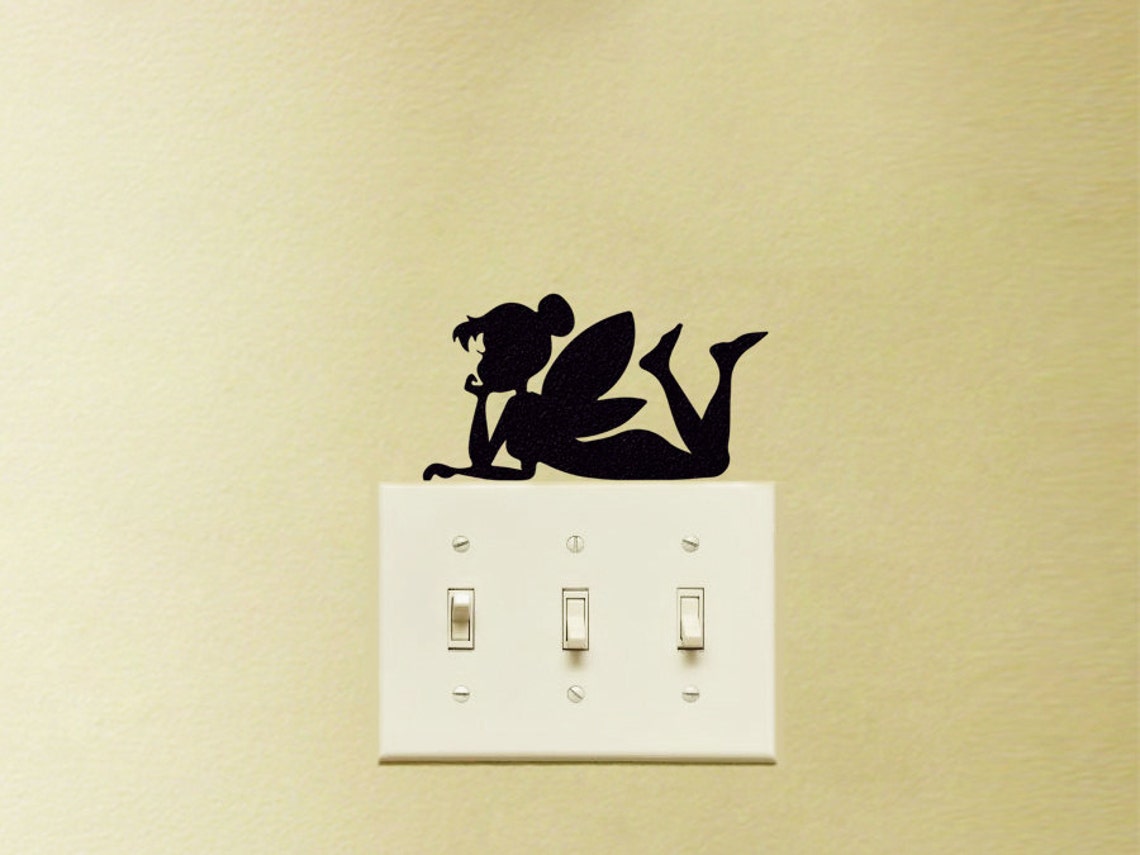 Image credit: Mirshkastudio via Etsy
6. Fairy Forest
Of course, no woodland fairy theme is complete without an enchanted forest!
This Bellewood forest wall mural from Rebel Walls is nothing but stunning.
Image credit: Design by Little Crown Interiors / Photo by David Casas
You can place a few potted plants (ferns are a great option) in a corner of the room to create a wild, beautiful space.
Another great way to create a fairy forest is to hang vines! You can use fresh vines (like Ficus) or natural-looking faux vines. Hang them from the ceiling, on the walls around the whole room, or arrange them with potted plants for an extra leafy display.
Image credit: Pinterest
7. Pink Stuff
Pink accessories can perfectly match our fairy-themed room: a pink headboard, pillows, plush throws, table lamp, tassel baskets, puffs, and more can all add to the fairy theme.
Image credit: Little Crown Interiors / Photo by David Casas
8. Mythical Creatures
To enhance the magical feeling, consider adding trolls, gnomes, goblins, elves, unicorns, or any other creature that was ever mentioned in the fairy tales you remember from your childhood or that appears in your daughter's favorite fairy stories.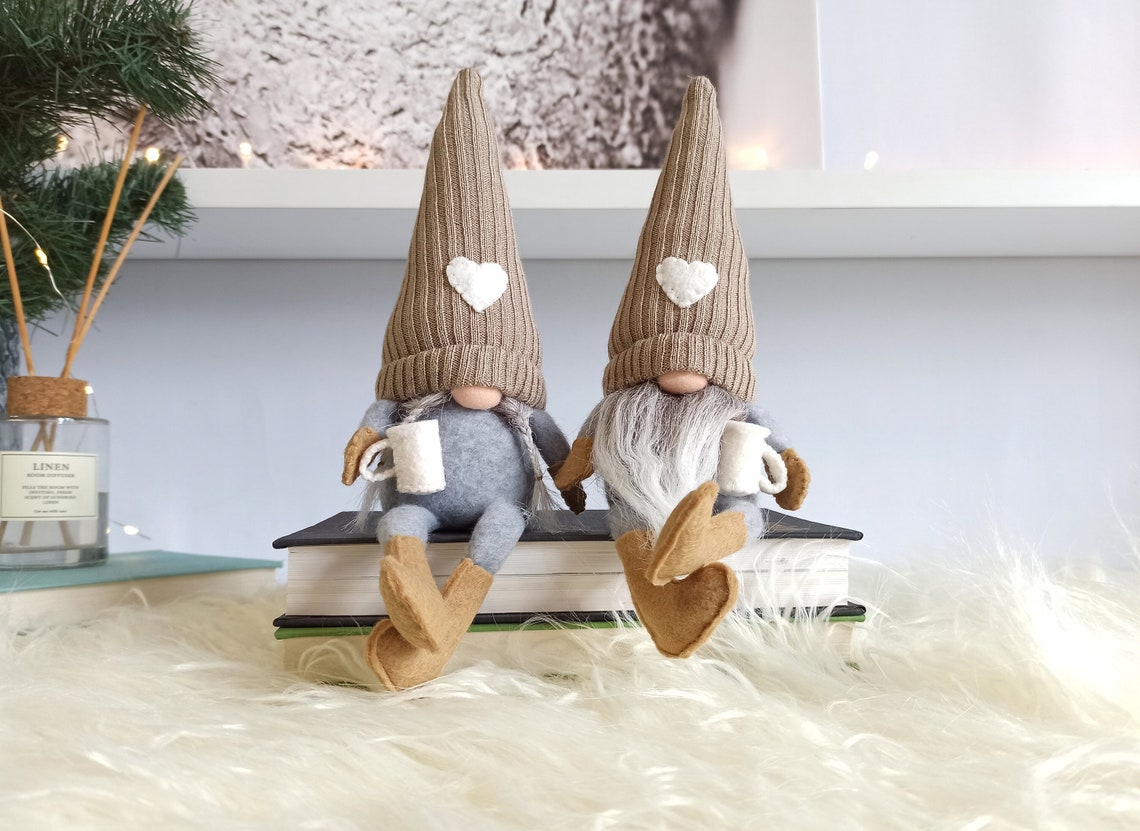 Image credit: HomeGnomeStore via Etsy
You can display them on a toy-display shelf and let your daughter add, remove, and change the display as often as she likes.
Image credit: House shaped toy display shelf by Lovely Little House
If you're wondering about the cute dolls in the photos, they are called Sonny Angels. If you're not already familiar with them, here is everything you need to know about Sonny Angels.
9. Fairy Light Wall
Another method of adding twinkly lights to a girl's room is creating a fairy light wall.
This installation is basically two sheer curtains hung on a hidden rod. Behind it, the magic of white-light strings and no-drill command hooks create an ethereal effect that will give your princess the coolest bedroom on the block. Here's an easy tutorial to follow.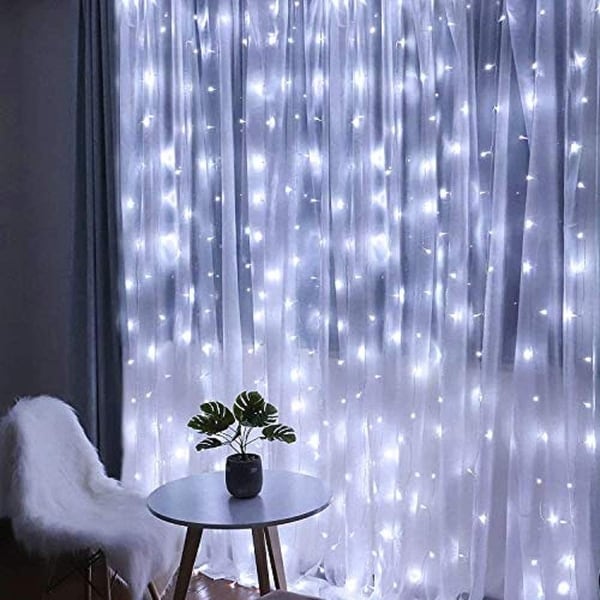 Image credit: Led Curtain String Lights by Overstock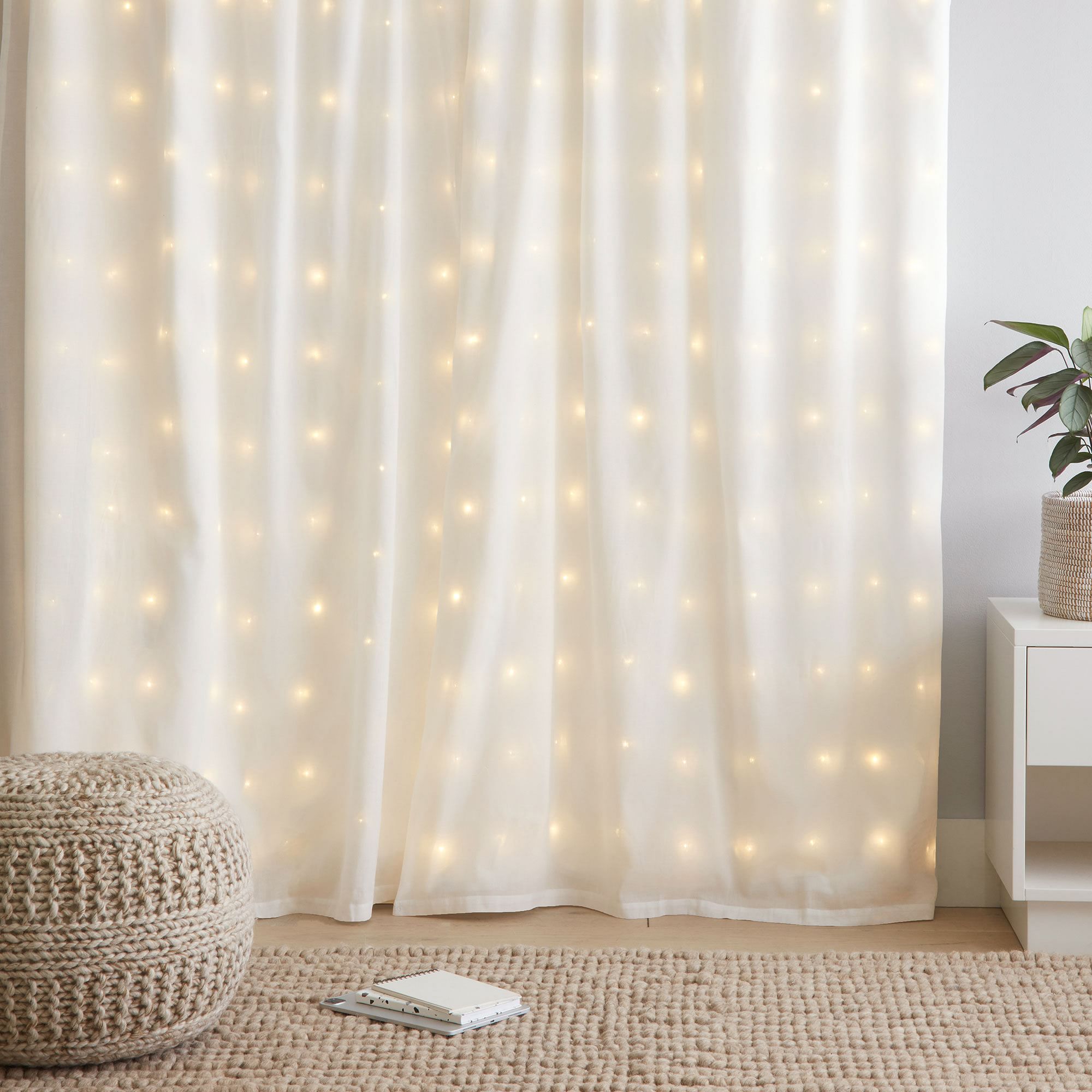 Image credit: Pottery Barn
10. Fairy Garden
Dry flowers or faux flowers can be perfect for creating a fairy garden. You can buy them online, or if you fancy a lovely DIY project, you can make dry flowers by pressing fresh flowers inside books. Here's a simple tutorial.
A forest can't have too many flowers, so entwine strands of flowers everywhere.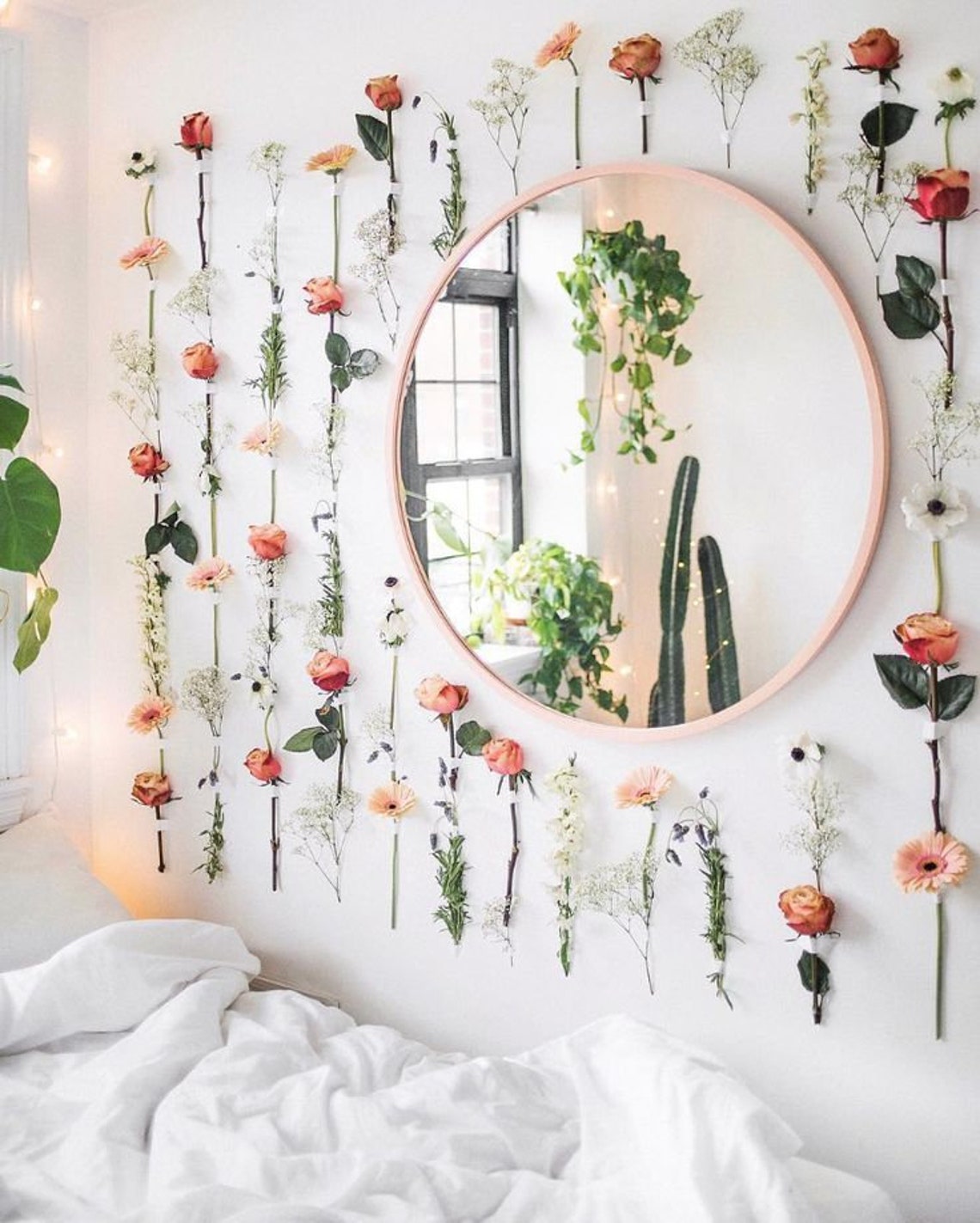 Image credit: BaloosBracelets via Etsy
Another very nice option is to use floral wallpaper. Pick only one of the walls to create a gorgeous accent wall. This stunning Classic Clematis Mural Wallpaper by Sian Zeng has hand-painted flowers spilling over the top of a wall and gives the magical feeling of living in a fairy tale.
Image credit: Design by And Then They Went Wild
11. Canopy Bed
You can add a romantic fairy look to a plain bed by adding a bed canopy.
Drape long fabric panels through a wooden or metal ring attached to the ceiling above the center of the head of the bed. Pull the fabric panel through the ring and down to the floor on both sides of the bed. Spread the panels out to display more fabric and frame the bed or drape the panels around the bedposts at the head of the bed, allowing plenty of room for your daughter to climb into bed. For a classic look, aim for white fabric.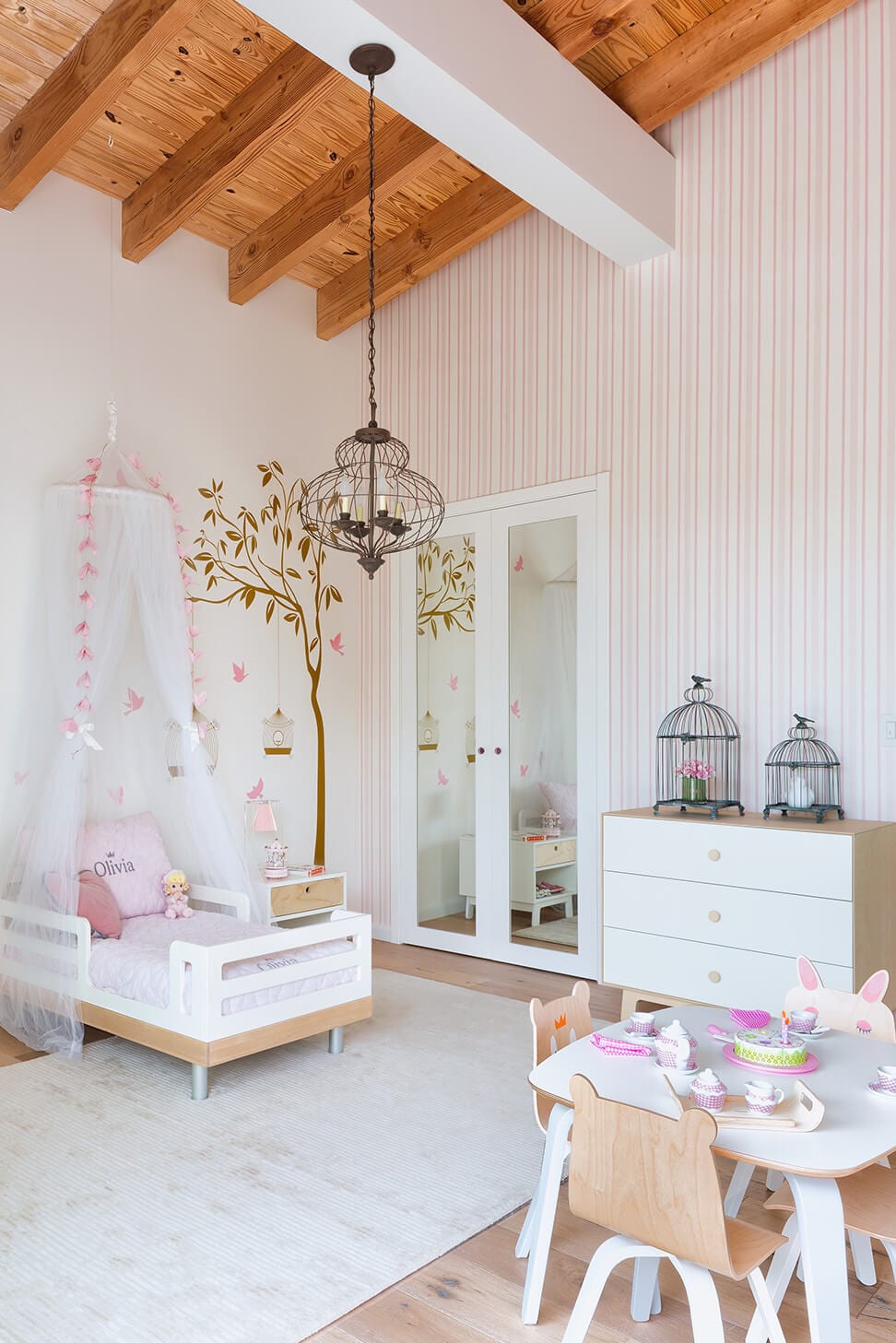 Image credit: Design by Maite Granda
Faux flower detailing around the top, or fairy lights can add a lovely touch.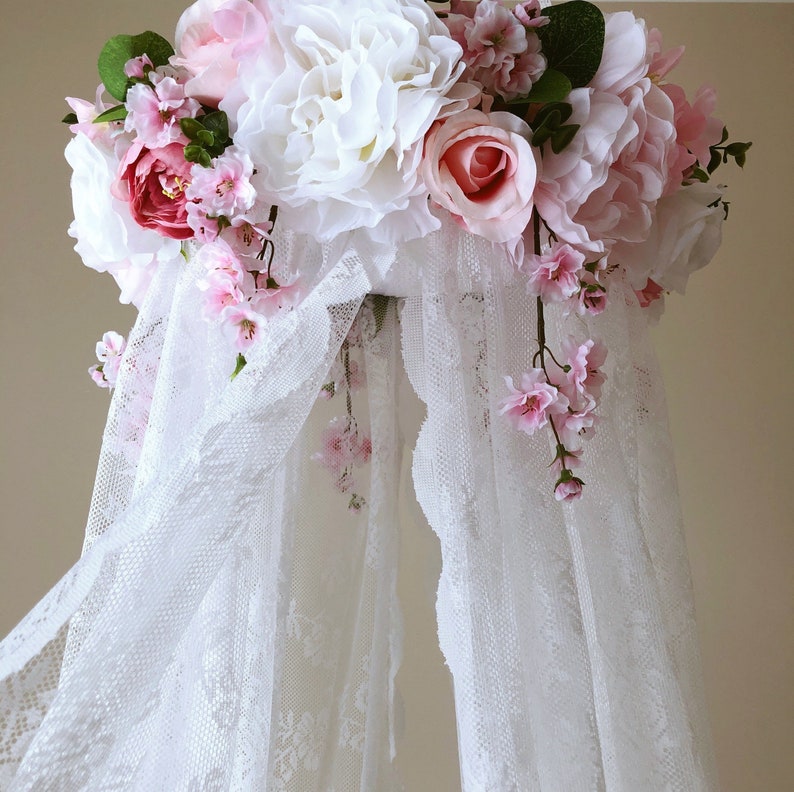 Image credit: PaulettaStore via Etsy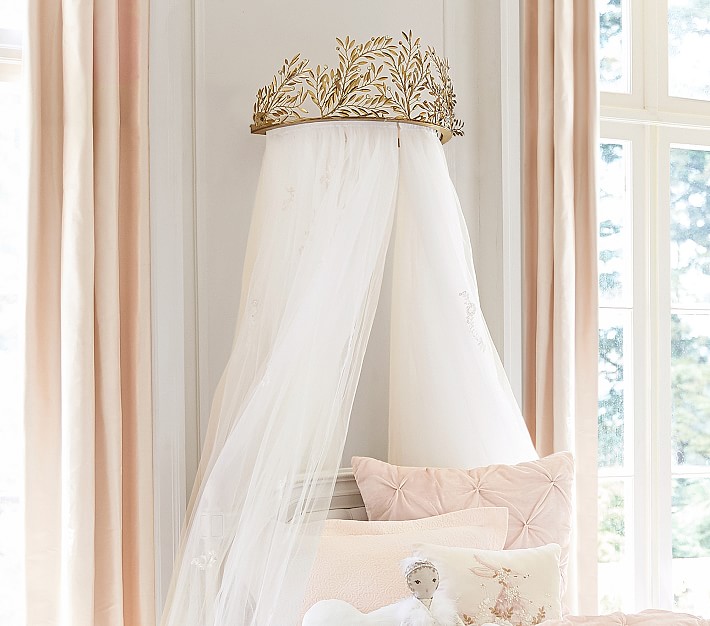 Image credit: Monique Lhuillier Gold Vine Cornice & Sheers by Pottery Barn Kids
Even a simple white mosquito net canopy over the top of the bed will make it feel more magical. Here's a nice tutorial for a DIY project.
12. Window Treatments
Go for light and airy window treatments. Light and airy linen and soft cotton curtains in more natural shades allow for more natural light without sacrificing privacy and add to the fairy nature of the room.
Image credit: Design by Cherished Bliss
Image credit: Design by Little Crown Interiors / Photo by David Casas
13. Wall Art
Vintage posters of butterflies and flowers can be perfect here. Other options are posters of fairies, gnomes, or mushrooms. There's a wide selection of beautiful prints online.
You can tape the posters on the walls with special invisible tape, use magnetic poster hangers or display them in frames (Ikea frames are a good and inexpensive option).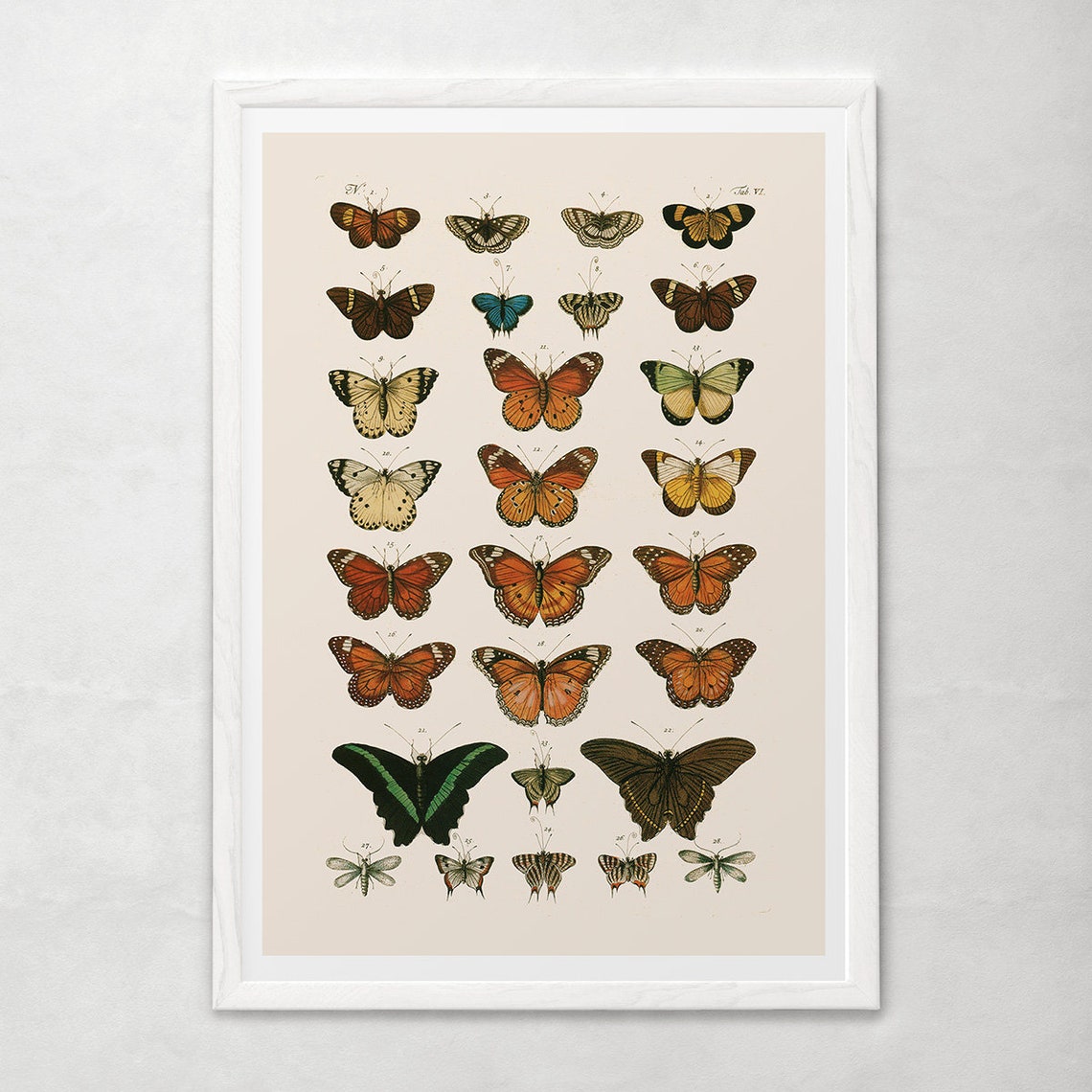 Image credit: EncorePrintSociety via Etsy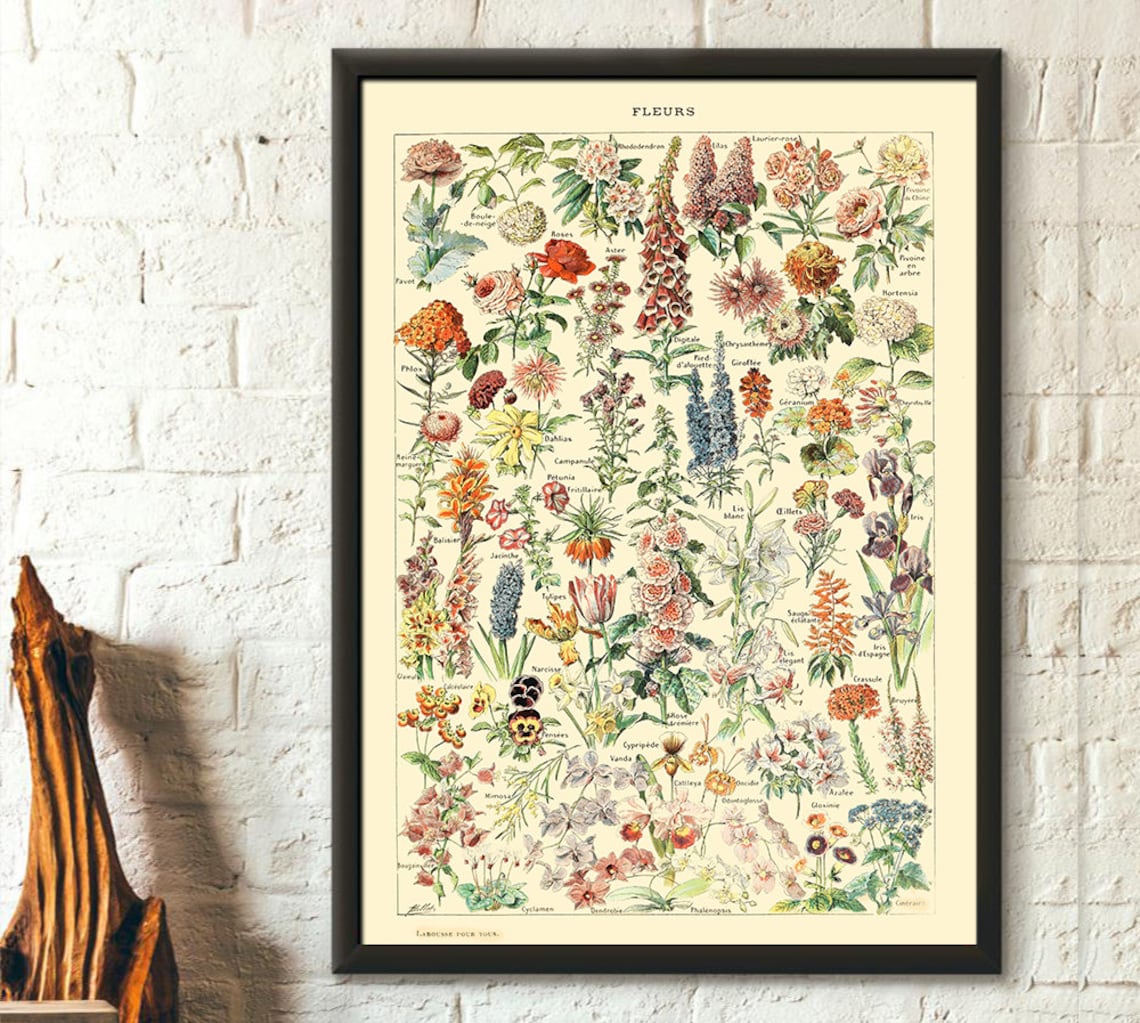 Image credit: VintageWallGraphics via Etsy
14. Bed Frame
A vintage-style bed frame with a simple country flare will fit beautifully in your fairy-themed bedroom design. It's best to keep the bed frame in neutral colors, as it's a lot easier to change accessories around the room over time than the bed.
Made from either wood or metal, here are a few great options: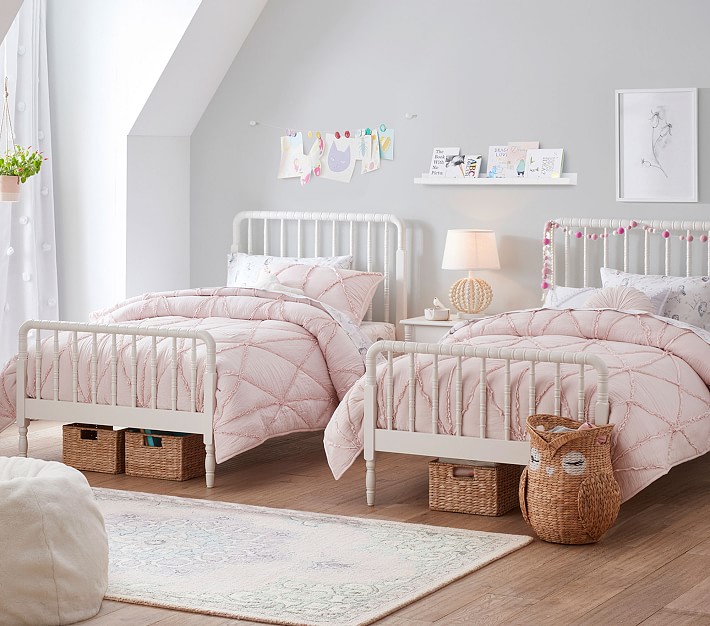 Image credit: Pottery Barn Kids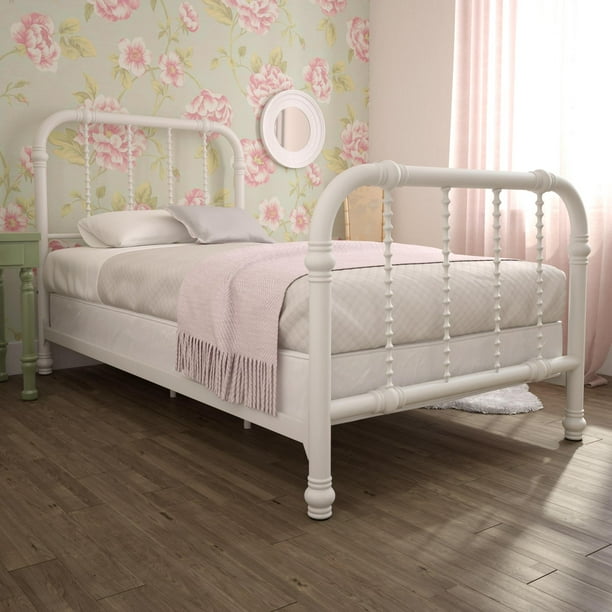 Image credit: DHP Jenny Lind via Walmart
15. Fairy Dust
Fairy dust is a magical powder that gives the power of flight to anyone it's sprinkled on!
To make your very own magical fairy dust (or pixie dust, if you'd prefer!), place small pieces of glitter or shiny confetti into a potion bottle and tightly seal the lid. Make a few bottles, each one in a different color, and place them together on a nightstand or a shelf.
Your little princess will love imagining that a fairy waved her magic wand and left streams of sparkling stardust behind!
Image credit: The Magic Crafter
16. Night Sky
Who doesn't dream of falling asleep under the stars?
You can stick glow-in-the-dark stars on the ceiling or use a Planetarium Projector to transform her ceiling into a starry sky.
Add a moon-shaped night light to complete the look.
Image credit: Design by Jess Blazejewski Photo: Ruth Eileen Photography
17. Wall Decor
A great idea that might take a little effort is to create a cloud of colorful 3D paper butterflies. Pick up some attractive cardstock in different colors and a butterfly-shaped paper punch. After you punch your butterflies out, fold the wings slightly outward and fasten your creation to the wall using double-sided foam tape.
Image credit: Jennifer Johner
18. Beddings
I recommend light-colored bed linens to encourage an airy feel.
You can keep the bedding soft and simple with a one-color scheme: white, rose, lilac, or another pastel color. To bring a fairy vibe to the room, add color with delicate floral or butterfly prints.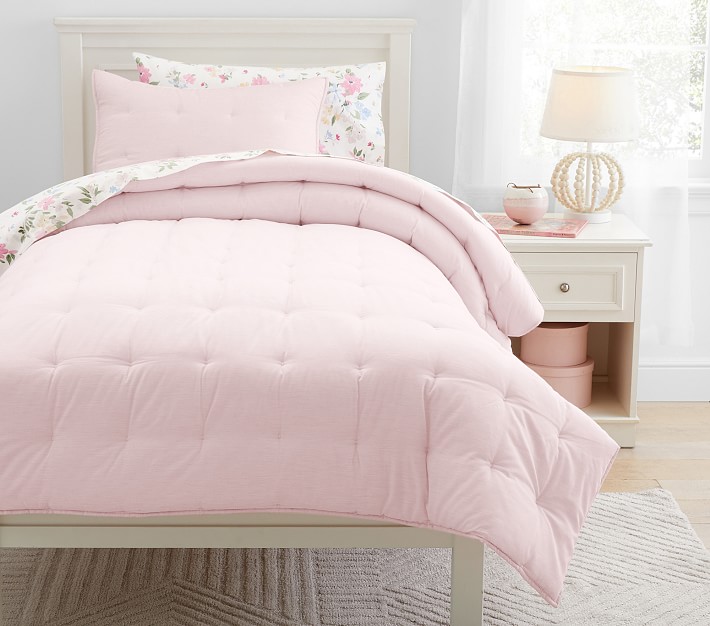 Image credit: Pottery Barn Kids
19. Needle-Felt Fairies
Needle-felt fairies are oh so beautiful. They are quite delicate and not intended as a play toy, but for decoration. They're made of wool using a special felting needle that creates a fuzzy effect. With one or two hung in the room, these tiny fairies are guaranteed to captivate and delight your little girl.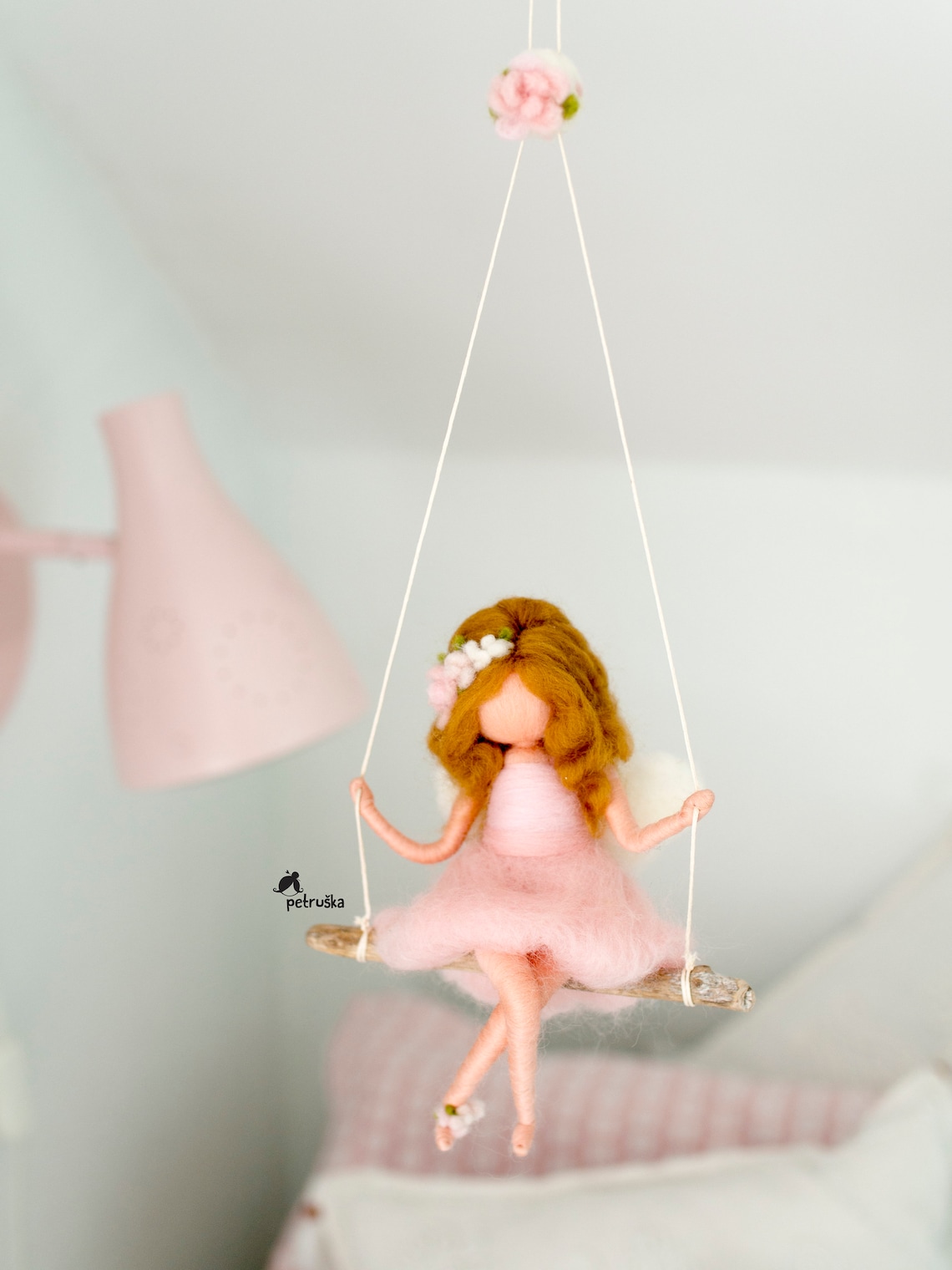 Image credit: PETRUSKAfairyworld via Etsy
20. Wildlife
For a perfect bedroom, add a range of stuffed animals and let your girl's imagination bring her group of friends to life. Cute bunnies and mice can be ideal here.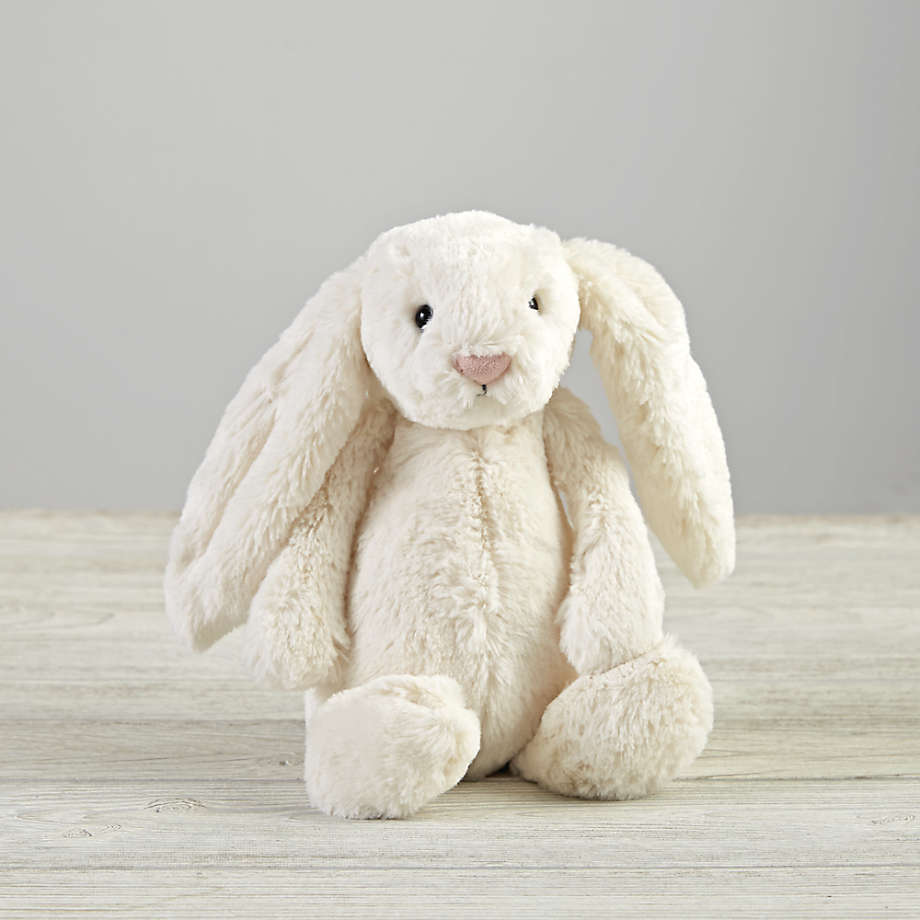 Image credit: Smallable
21. Chandelier
A chandelier can transform a room into a magical world that is truly fit for a fairy.
Crystal chandeliers reflect the light at every angle, creating an effect like no other.
Image credit: Pottery Barn Kids
Rattan chandeliers enhance the natural, warm feeling of the room. Beaded chandeliers add a touch of playfulness.
Image credit: stylishproductions / design by Britt Design Studio
Whichever one you choose, make sure it's a practical size for a child's room in both height and diameter.
22. Rug
A rug can become a signature piece of your girl's room.
Choose a rug of great quality, soft, and easy to clean.
Here are some great examples: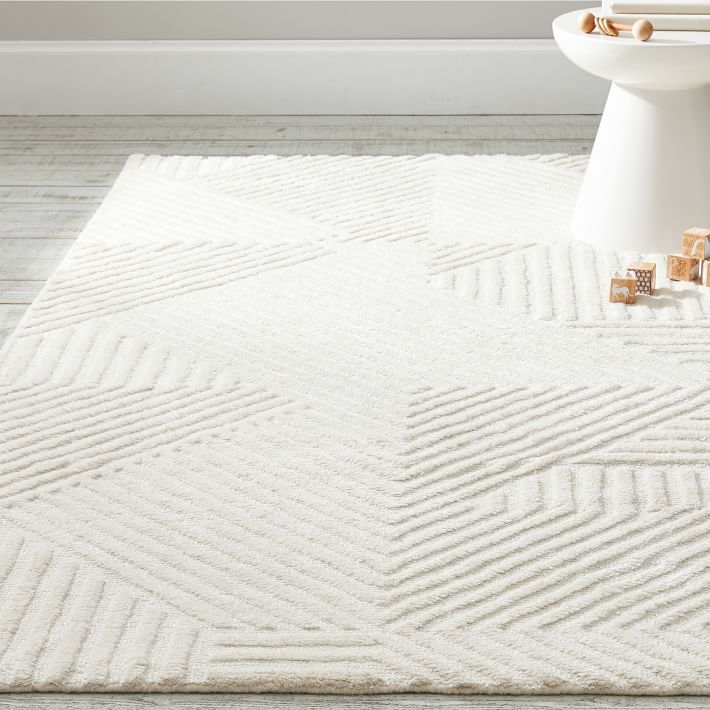 Image credit: West Elm
Image credit: Kroma carpets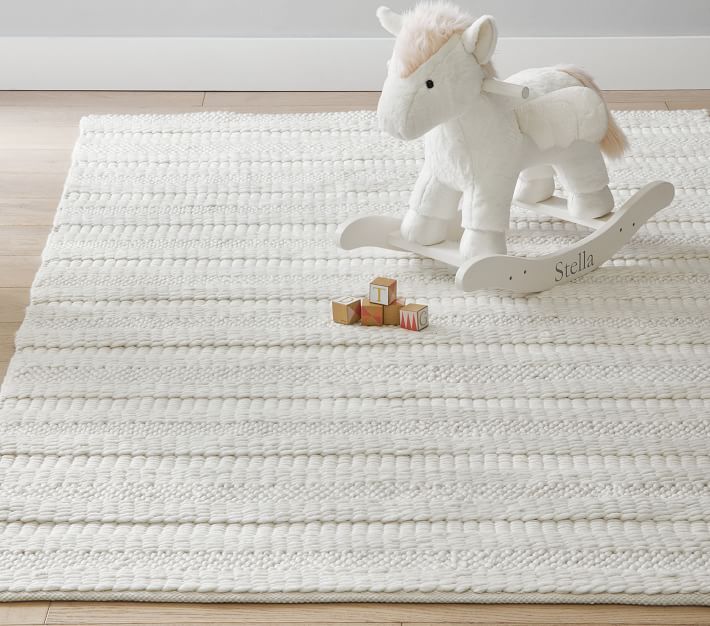 Image credit: Pottery Barn Kids
23. Door Sign
Now the only thing missing is a door sign that will set the mood before even entering the fairy-styled bedroom. I just love this "Fairies Welcome" sign.
Image credit: Catch My Party
Your Turn!
So, that about concludes my ideas for a fairy-themed bedroom.
Hopefully, I've given you a few inspiring ways to transform your daughter's bedroom into her magical land. I'd love to see what you do with these ideas. Please share them in the comments below or send them to me at
adi@lovelylittlehouse.com
.
xxx
If you're interested in kids' rooms, I've written a blog post focused on creative playroom shelving ideas for toy storage. Take a look and find inspiration for organizing toys in a fun and practical way.